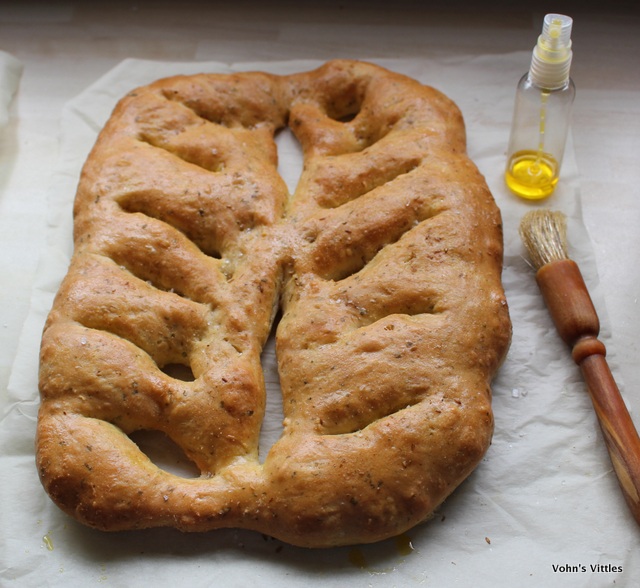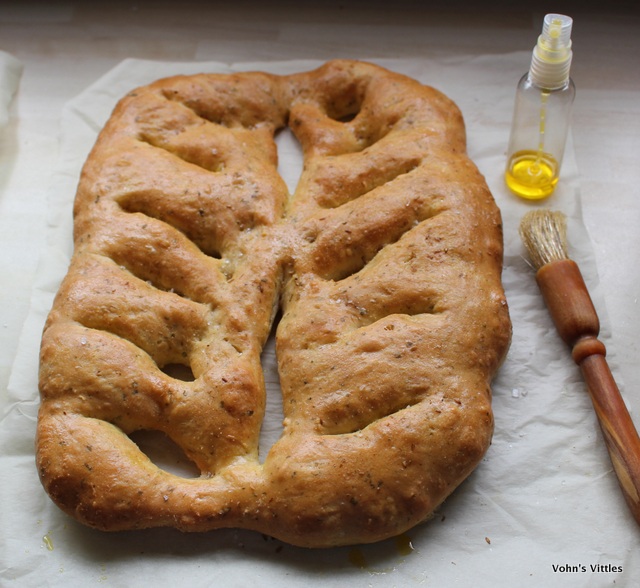 Hello there dear reader,
As soon as I heard this week's theme for bake off I got really excited. They've never had a botanical week before and I'm a bit obsessed with all things botanical. Before I got ill I was retraining in horticulture and botany. I still dream of working in botany somehow but cannot manage field trips now, so am feeling a bit stuck. So what better way to get rid of my frustrations than with a botanical technical challenge – a delicious herby fougasse?!
A what now? A fougasse is a French bread with very similar origins to the Italian focaccia.  Paul's recipe calls for fresh rosemary, thyme and sage. Beautiful those these herbs look, I'm not particularly fond of their flavour so I decided to mix things up a bit. My first thought was the lemon thyme growing happily in a pot on my back doorstep. I love to use it in savoury and sweet dishes – it works equally well in both.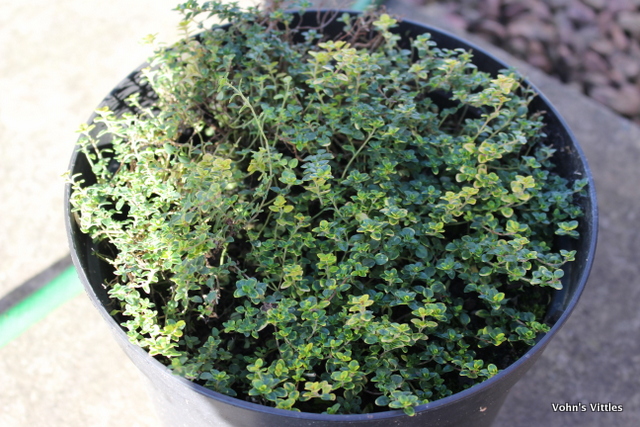 When I use any sort of thyme I'm always reminded of the first time that I saw thyme in the wild. I was on a botanical field trip in the Scottish Highlands and we were supposed to be looking for a rare plant Sibbaldia procumbens, which is the logo of the Royal Botanic Garden Edinburgh, where I used to work and study.

Picture the scene – a bunch of botanists and students on our hands and knees intensely finger-tip searching a Scottish hillside! Suddenly I found a small patch of wild thyme and all thoughts of finding that rarity were gone. Next time I looked up, the others were nearly at the top of the hill whilst I'd just sat and daydreamed about all the different dishes I wanted to use my wild bounty in!
Returning my thoughts to fougasse, I was musing on what to pair the lemon thyme with and coriander flashed into my head. Coriander often flashes into my head! This is my all-time favourite herb! I used to hate it but, when it is picked freshly and used immediately, I adore it. I now buy a pot of coriander about once a fortnight. Coriander decided – but then I spotted my poor coriander plant badly wilting, leaves flopping on the windowsill. I know how amazingly resilient they can be, as long as the leaves haven't started to yellow, so I gave it a thorough water in the hope it would perk up by the next day. It did! Yay! Clever coriander!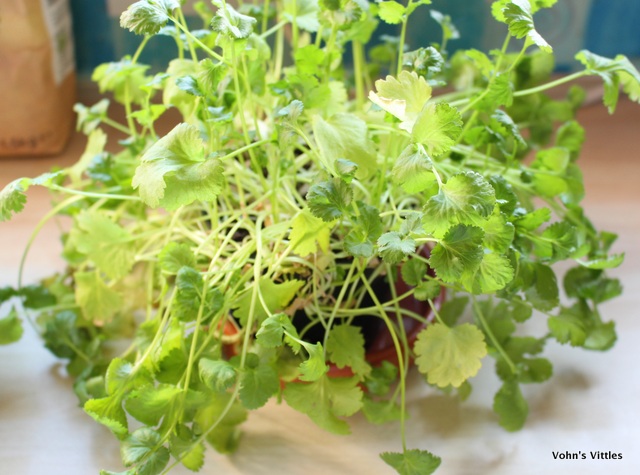 Paul's recipe called for olive oil in the fougasse but I didn't have any, as I prefer to use a local cold-pressed rapeseed oil. I did worry that the bread needed that extra layer of flavour though, so I decided to put in a 1/2 tbsp of lime-infused rapeseed oil. I wouldn't say I could have picked the lime flavour out in the finished fougasse but equally I think the bread wouldn't be the same without it.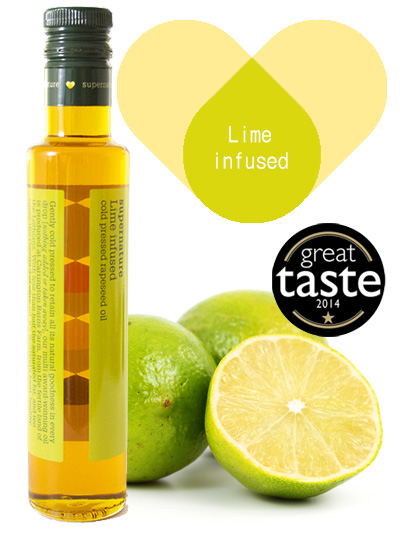 Paul's topping calls for dried oregano but this is another herb whose flavour I'm not keen on. Yes, I know, I'm a ridiculously picky eater! I thought cumin would pair nicely with both the coriander and the citrus notes of the lemon thyme and lime-infused oil.
And so a recipe is born!
2 tsp chopped fresh lemon thyme
2 tsp chopped fresh coriander
1tsp ground cumin
500g strong white flour
10g salt
7g yeast
½ tbsp lime-infused oil
1½ tbsp cold-pressed rape seed oil
350ml warm water
Again I am entering my bake into Mummy Mishaps Great Blogger Bake Off blogging challenge.
Here's how it went…
First chop your herbs. I used 2 tsp lemon thyme and 2 tsp coriander.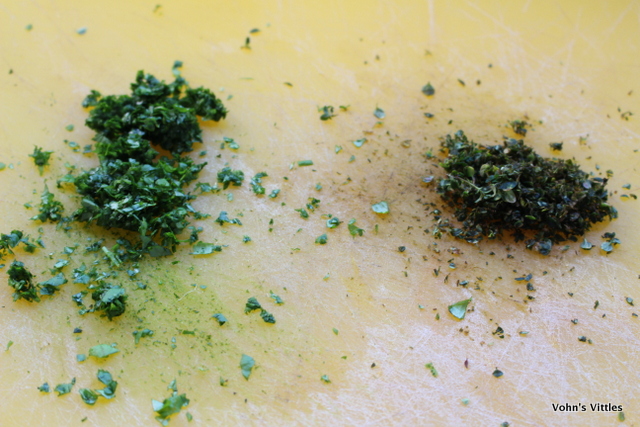 Next grind the dried herb for the topping. I used 1 tsp dried cumin.
Next place 500g strong white flour in mixing bowl of a stand mixer. Add 10g salt and 7g yeast, remembering to keep salt and yeast on opposite sides of the bowl (as direct contact can inhibit the yeast growth). Next add ½ tbsp lime-infused oil, 1½ tbsp cold-pressed rape seed oil and about ¾ of the warm water.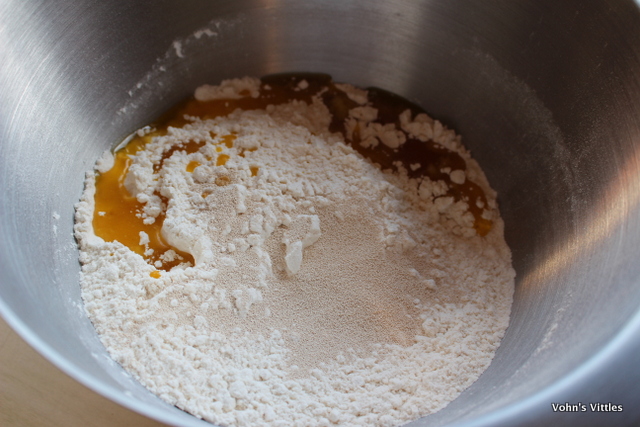 Mix on a low speed until the dough comes together.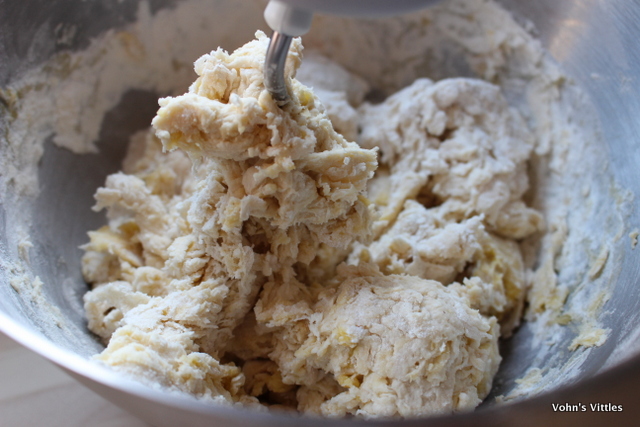 Then very slowly add the remaining warm water.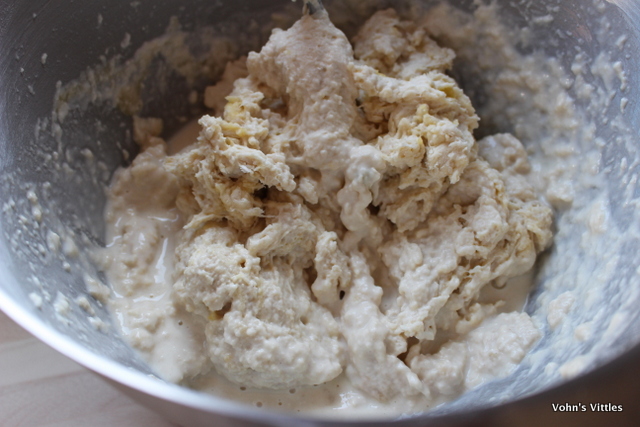 Next mix on a medium speed for eight minutes.
Bread is a great thing for someone with chronic fatigue to make. Obviously hand kneading is impossible but, as long as you have a good stand mixer with a dough hook, then it is ideal. Bread takes a long time but it is all gentle activity interspersed with lots of rests during rising and cooking time. I did have to leave the room while the dough was kneading, as the noise of the mixer was too much for my noise sensitivity. However I didn't like to leave the mixer going unattended for the full eight minutes, so I went back in and checked it every few minutes. Here's how it looked after four minutes…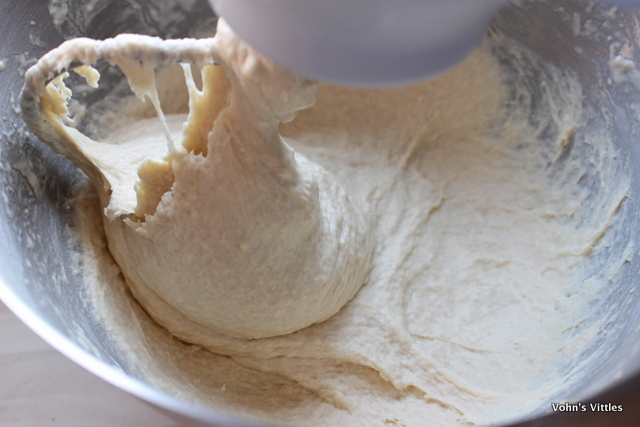 And after eight minutes…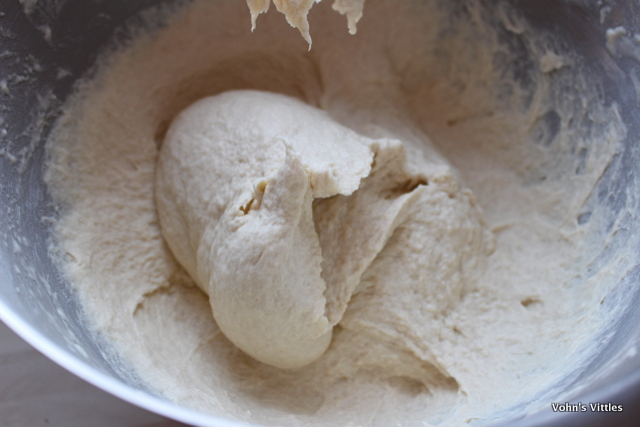 Then add the chopped herbs and mix again for about a minute until combined.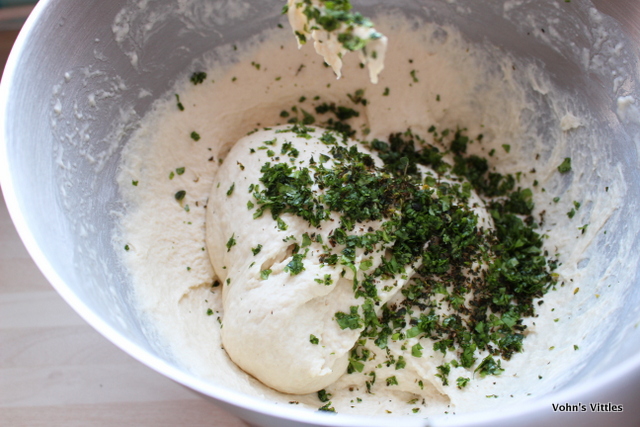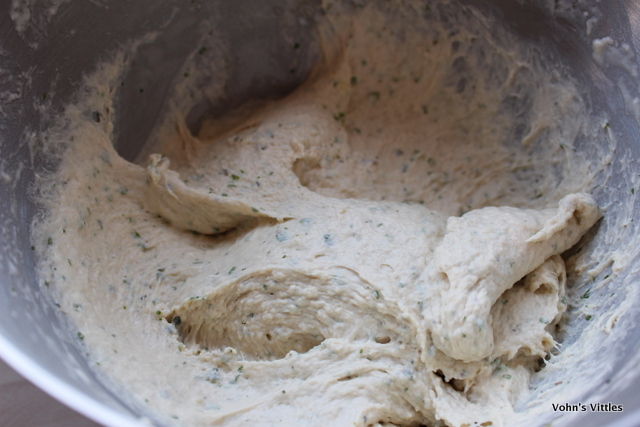 Tip the dough into an oiled container, cover and leave to rise until doubled in size.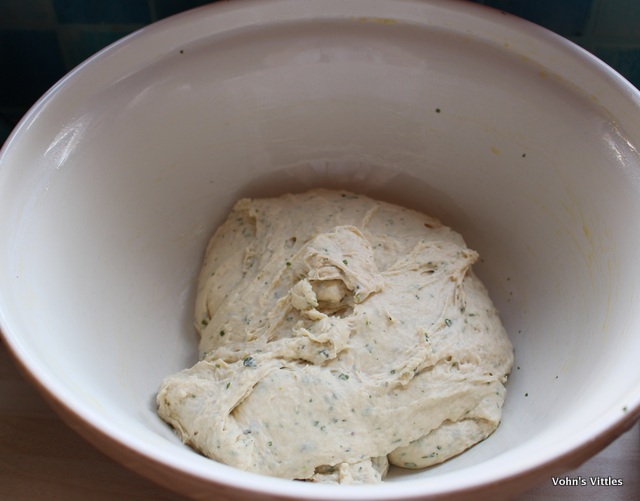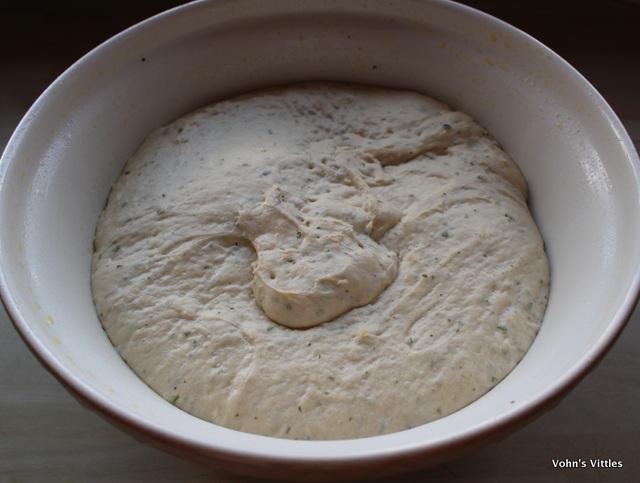 Next mix equal quantities of semolina and flour together and use to flour a work surface.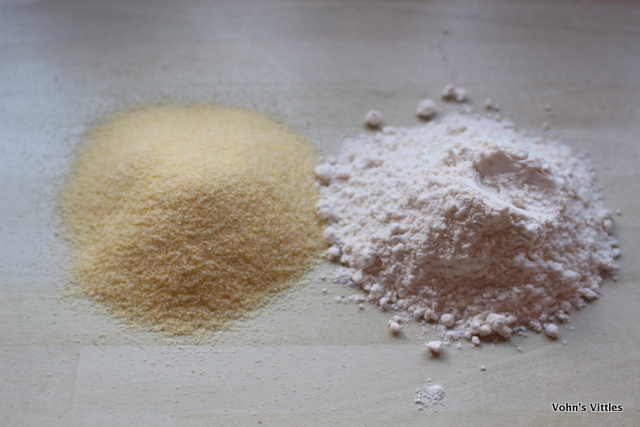 Tip out the dough and split in half. I split mine unevenly as the smaller loaf was going to be for Mr Vohn & me, and the larger loaf (assuming the recipe works of course!) is for my local food group.
The dough is very gloopy at this stage, so keep your hands well coated in the flour-semolina mix.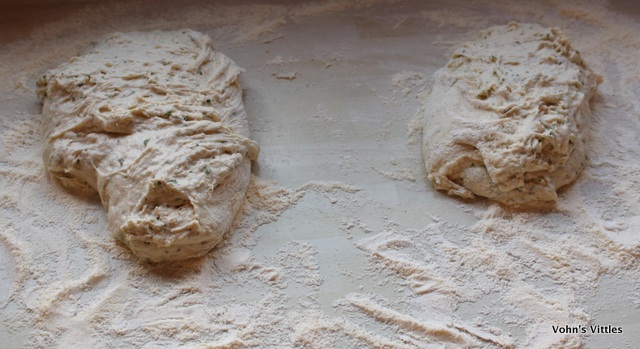 Line two large baking sheets with greaseproof paper and lift one piece of dough onto each and pull out into oval shapes. Mine were more oblong-shaped!
Now make two cuts consecutively down the middle of each loaf and then six at an angle on either side. Paul kept saying this was so they were leaf-shaped! No Paul what have leaves got to do with flour/dough/bread?? The shape is an ear of wheat – you know – the stuff used to make flour – no Paul, flour is not made from not leaves!
Top tip from me is to use the leftover semolina/flour mix to flour your hands & knife during this stage. My dough was still very sticky!
The instructions now say to place each sheet inside a large plastic bag and leave to prove for 20 minutes. I have no idea where to buy food-grade plastic bags this large, so I cobbled together strips of oiled cling wrap until each sheet was covered and nearly airtight.
When I went to check them 20 minutes later, I realised how key is the instruction to stretch the dough to emphasise the cuts made in it. When the dough rises the cuts really lose their definition. This was especially true of the smaller loaf, which was resembling some sort of deformed slashed blob.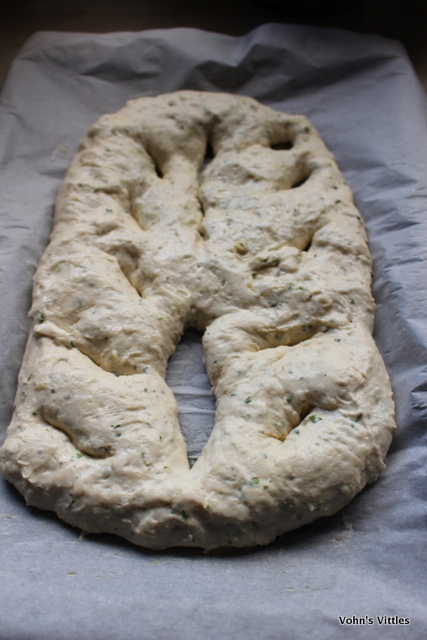 The larger loaf looked a bit better. I guess because I had taken a little more time over it as it was not for us!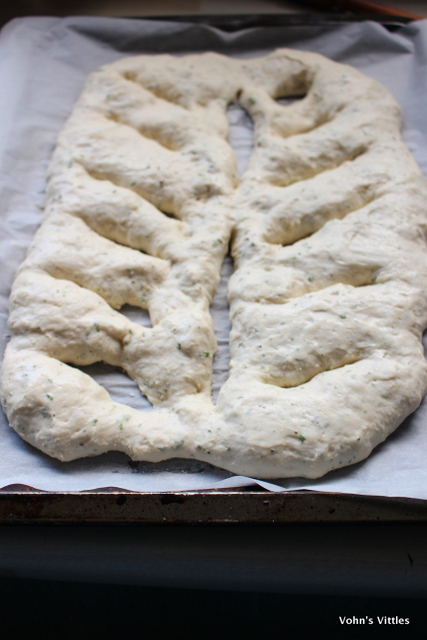 Heat the oven to 220ºC (I went a bit lower after last week's burning/collapse fiasco) as I think my oven is likely running a little above temperature. Spray, or drizzle, over some cold-pressed rape seed oil, then sprinkle with the crushed cumin.
Bake for 15-20 minutes until the base sounds hollow. I cooked mine for more like 30 minutes (but I had turned the oven down a little).
As expected the smaller one looked a bit rubbish. However I went ahead and glazed it with more oil and sprinkled with salt.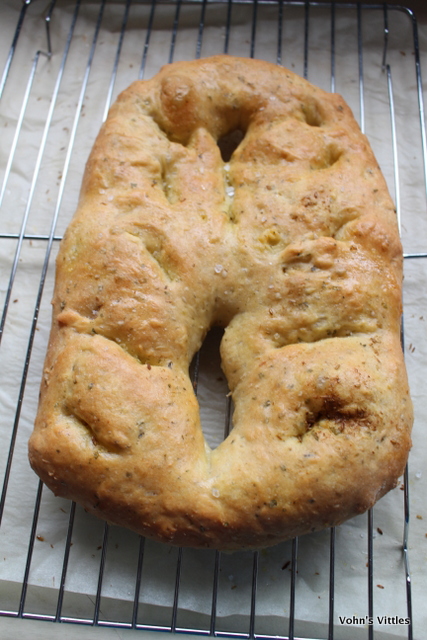 I was a lot happier with the larger one, which held its shape quite well and looked beautiful once glazed and shiny.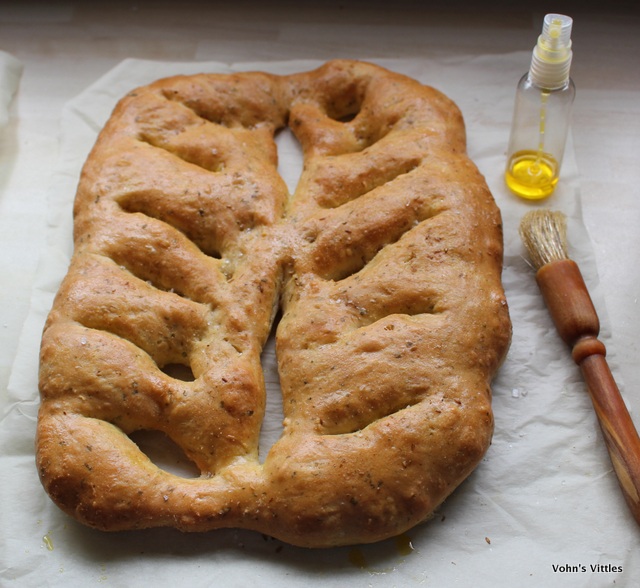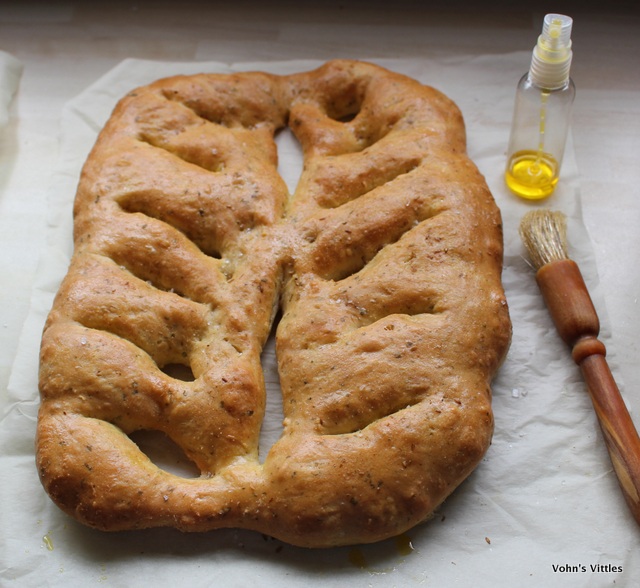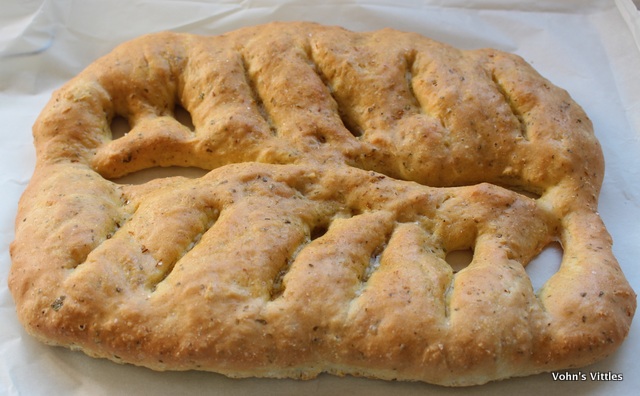 The verdict was that it was far far too salty. A quick trip to the kitchen to scrape the salt off the top and the problem was sorted. It really does not need that sprinkling of salt on the top Paul!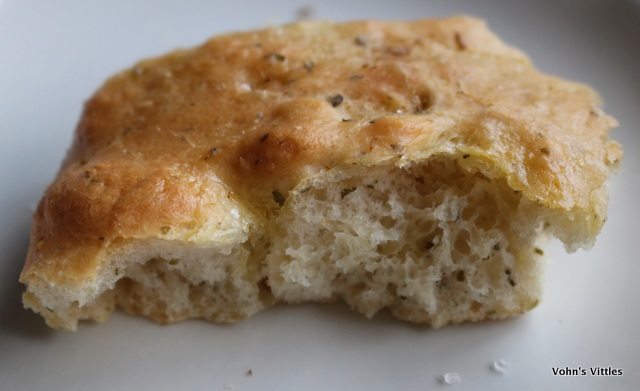 The fougasse has a nice texture, with a crisp chewy outside and a soft centre. The flavours are lovely and work really well together.
I wrapped it up carefully in greaseproof paper to take it along to our community food group meeting the next day. It does definitely need wrapped, as the loaf we had tasted and left out overnight was very tough the following day!
The verdict at food group was that everyone loved it, with the kids coming back regularly to sneak another strip. One pair of sisters insisted that they get a piece at swap time to take home to their dad for him to try too! A resounding success!
I will definitely make this bread again. It's a doddle to make, it is tasty and the recipe yields two loaves. Oh, and each loaf is shaped like an ear of wheat (wheat Paul, wheat!). What's not to love?
Vohn
x
P.S. Look what I won for this recipe! Star technical baker in Mummy Mishaps blogger challenge! Feeling so chuffed and honoured!