Hello Dear Reader,
One of my all time favourite flavour combinations is chocolate and lime. So when a recipe for Chocolate Orange Curd was published by Karen on her beautiful blog Lavender and Lovage my first thought, after drooling over her unique new recipe, was that I simply had to try it with lime instead of orange!
Since my father is also a chocolate lime fan, I decided to make this on a recent visit home. I didn't want to leave my parents with a load of unused egg whites and so was born my chocolate and lime curd mousse. It went down a treat after our usual "Vohn is going back to Scotland" lunch of leftover Chinese food!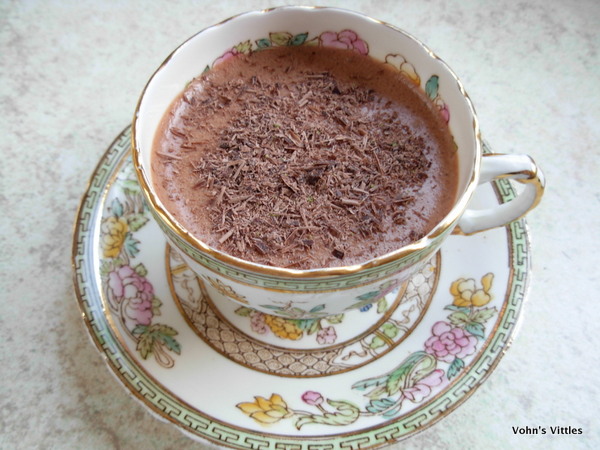 You will need 2 limes,  5 eggs, 50g caster sugar, 50g butter and 100g chocolate…
Start by zesting and juicing the limes…
Then separate the eggs…
Set aside the egg whites – for now you will only need the yolks…
Place the egg yolks, sugar, butter, lime zest and lime juice in a non-stick pan (or use a bain-marie) and heat over a gentle heat, stirring continuously, until it is thick and glossy in appearance.
At this point I liberated a couple of tablespoonfuls of the tangy lime curd to serve at breakfast time! It is heavenly.
Remove the pan from the heat and break in the chocolate, reserving a couple of squares for decoration later. Stir until all the chocolate has melted and is fully incorporated.
Again I liberated a couple of tablespoonfuls of the chocolate lime curd for a decadent breakfast!
Now, put the chocolate lime curd aside to cool slightly in the pan whilst you whisk the egg whites until you have stiff peaks. Then use a large metal spoon to fold the the chocolate lime curd into the egg whites. Once fully incorporated, spoon into serving dishes or teacups.  Place in the fridge to set.
Grate the remaining chocolate on top & serve.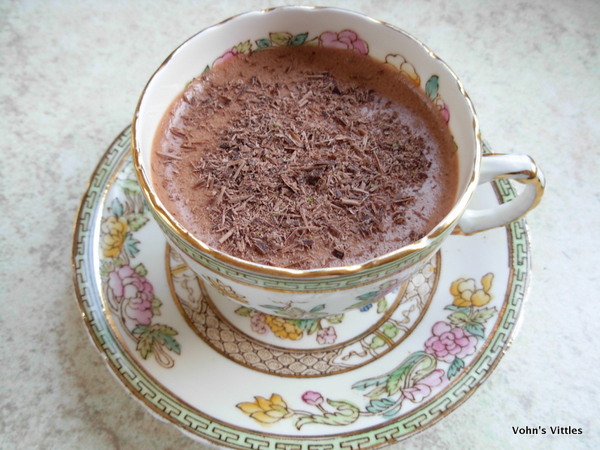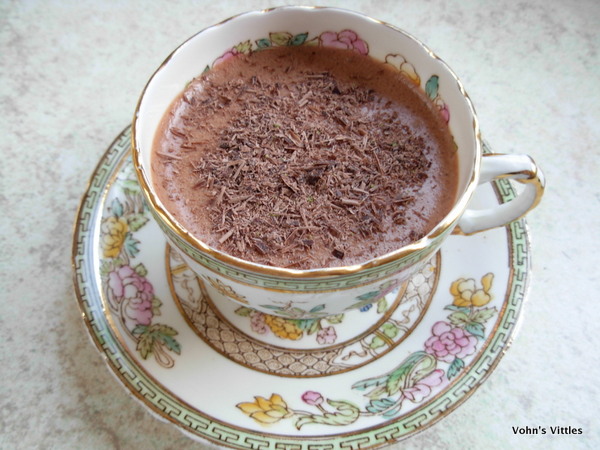 Enjoy!
Thank you Karen for the inspiration! You can print Karen's original recipe for her Chocolate Orange Curd from her gorgeous blog Lavender and Lovage.
Vohn
x
P.S. If you like this, you may also like my Chocolate and Lime Tart recipe!
P.P.S. I am entering my Chocolate Lime Curd Mousse into the "Made with Love Mondays" challenge run by the Javelin Warrior over at Cookin w/ Luv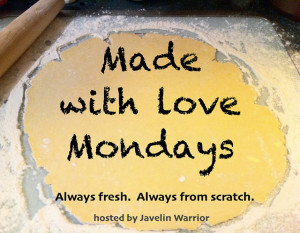 ~