Hello Dear Reader,
Last week I was at another evening masterclass at my wonderful local farm shop, the multi-award-winning Hopetoun Farm Shop.  The previous masterclasses I have been to were with loquacious and poetic chef Neil Forbes.
Masterclass in Cooking Seasonal Game
Masterclass in Simple and Seasonal Scottish Cooking
This latest one was bang-on with its theme of romantic dishes perfect for Valentine's Day, not to mention having wine tasting this time too!
So if you want a delicious menu to woo your true love, read on!
Our chef du jour, or should that be du soir, is Kenny Whittle who is head chef at The Edinburgh Larder Bistro, which is known throughout Edinburgh as a "hidden gem".
Provenance is a key part of The Edinburgh Larder's ethos and Kenny's team has developed great relationships with many small artisan producers throughout Scotland.  As they say themselves "there isn't much we can't source on our doorstep so why would we choose to buy food from anywhere else?".  A sentiment I wholeheartedly agree with!
Kenny has a very quiet presenting style but is absolutely brought to life when talking about Scotland's fabulous natural larder.  As a former fisherman and keen forager he is passionate about the wild foods of Scotland.  In fact he has brought along some foraged leaves for this evenings accompaniments. We will have Mugwort, Alexanders, Bull's Blood, Wild Leek, Crow Garlic and Winter Purslane.  

Kenny has also selected most of the produce for the evening from the farm shop and his key ingredients have been sourced from the Hopetoun Estate itself.  As most chefs do, Kenny jumps about from dish to dish prepping parts of each, and finishing them just before plating up.  For your sanity, dear reader, I will discuss each dish in turn!
~
Hopetoun Estate lamb kebab with mugwort, homemade ketchup and foraged salad
Kenny chops a beautiful lamb gigot and an onion into large chunks, which are then marinated in homemade tomato ketchup and mugwort.  The delicious ketchup is a simple mix of 1kg roasted whole tomatoes blended with ¼ onion, 1 tbsp cider vinegar and 1 tbsp sugar, which are then cooked down together.  Once marinated, Kenny threads the lamb and onion onto skewers.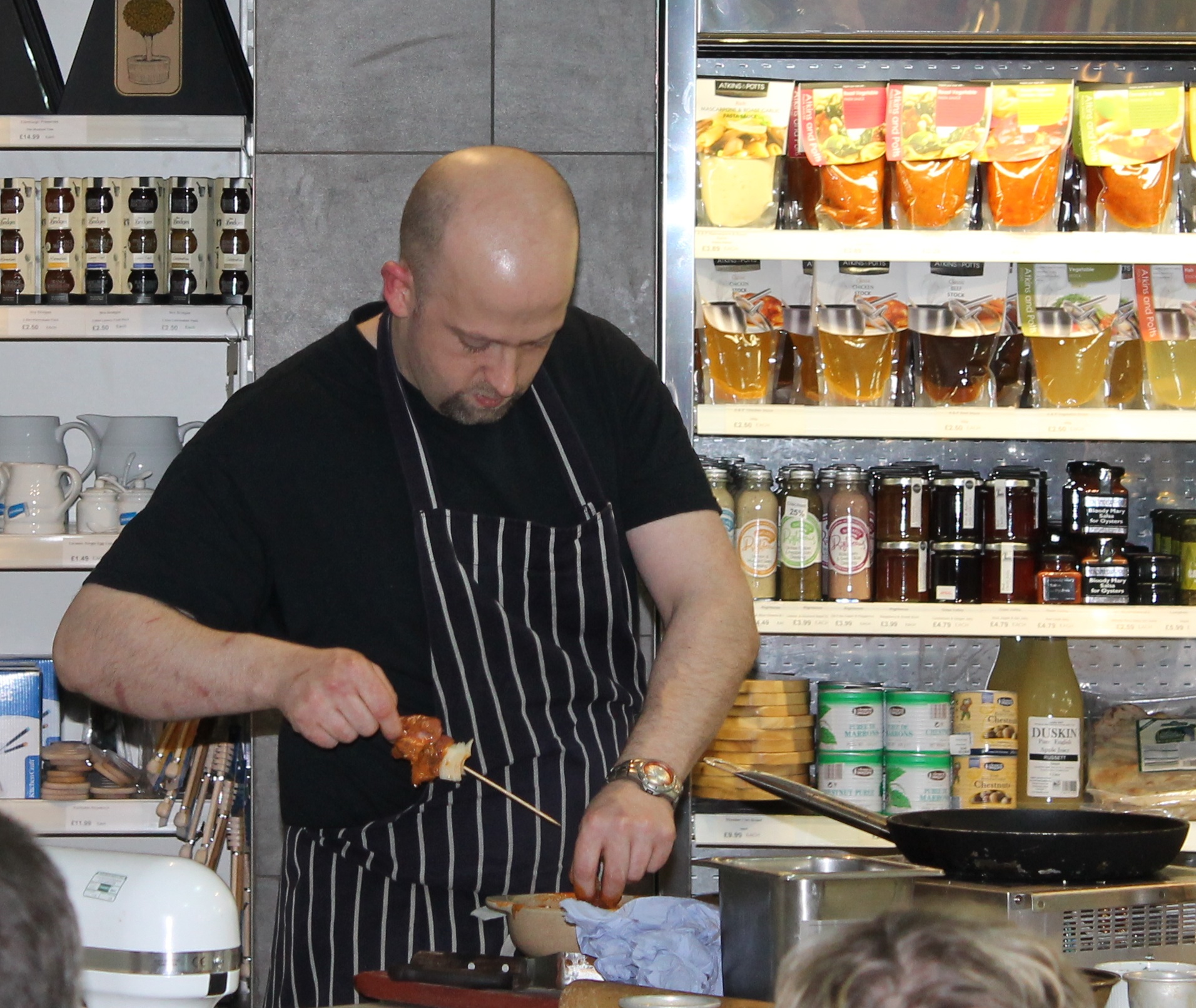 A little seasoning and then the skewers are fried in a hot frying pan for a minute or two each side.  The kebabs are served with more homemade ketchup and a foraged salad.
sorry – the lamb got away!
everyone was too busy eating this delicious dish to take any photos!

The lamb is tasty and tender, as would be expected with it coming straight from the Hopetoun Estate.  The marinated onions are a surprising delight and the homemade tomato ketchup is the highlight of the dish.
~
Wine expert Neil Robertson has been invited this evening to pair a wine with each of Kenny's dishes.
Neil works for Wood Winters, a young independent premium wine wholesaler and Hopetoun's newest wine supplier.  Wood Winters is based nearby in Stirling and, although their wine is sourced from much further afield than our food this evening, they do share the Hopetoun ethos of supporting smaller independent family producers.
The three wines Neil has chosen this evening are each produced by small independent wineries.
Neil starts by giving us a mini lesson in wine-tasting, which is based around our five senses…
Hearing
The noise made by the cork being pulled from the bottle
The sound of the wine pouring
Sight
The depth of colour and viscosity
An orange tinge on swirling denotes age
Smell
The so-called "nose" of the wine
Which fruits, spices, florals do you "get"?
Taste
Sweet, salty, sour, bitter, umami?
Is it well-balanced?
Touch
Grab your credit card and buy a bottle!!
To accompany Kenny's lamb kebabs Neil has chosen Ca'di Ponti, from Sicily, which is made from the Nero d'Avola grape.  It has hits of ripe black cherry countered by a herby earthiness.
~
Free range Hopetoun chicken, bacon and wild mushroom pie with homemade beans
Kenny cubes the chicken breasts, fries to brown and seal, then sets it aside. Next he fries sliced onion and chopped carrot, adding chopped streaky bacon, then breaking in wild mushrooms.  Next comes stock which is simmered to reduce slightly, followed by cream and the chicken. Once the chicken is cooked it is seasoned with chopped parsley, salt and pepper, before being left to cool.
The pastry is similar to shortcrust but slightly lower in butter than usual (900g plain flour, 400g butter, 2 eggs & iced-water if required).  Kenny explains that he uses this formula as it negates the blind-baking stage – he cooks the filled pies for half an hour, then removes them from their tart tins and cooks again until the pastry is golden.  His top tip as he rolls the pastry for the tart tins is to leave for a minute after rolling before using, so as to allow the pastry to relax on the table, rather than in the tin, where it may shrink and crack.
The pie is served with homemade beans, which are cooked haricot beans heated through with the fabulous homemade tomato ketchup.
Kenny's pastry is superb – crumbly and buttery.  The beans are very sweet but go well with the tender chicken.
Neil has paired this dish with an Esk Valley Marlborough Pinot Noir from New Zealand. This wine is heavy with berries and is quite acidic, which is great for cutting through the sweet rich beans.
~
Fillet of Hopetoun Estate rib eye Aberdeen Angus, Stornoway black pudding, root vegetable chips and creamed carrot
Kenny starts this dish by making mashed potatoes and then crumbling in the black pudding.  The carrots are steamed and blended with butter, cream and seasoning to produce smooth creamed carrot, which looks earthy and vibrant. The steaks are generously seasoned, then fried for a couple of minutes each side in a hot frying pan, with butter added partway through cooking to impart a nutty taste. Kenny's top tip for resting steak is to rest for five minutes at room temperature and then five minutes in the oven at 100°C. Meanwhile parsnip, turnip and carrot are blanched and then fried in hot oil.
The steak is succulent and tender, not surprising since it is from Hopetoun's own Aberdeen Angus herd. The black pudding mash is a revelation, rich and spicy with amazing depth of flavour. The root vegetable chips are delicious, even the turnip which I don't usually like. The creamed carrot is sweet, smooth and delicate in flavour.
Neil has chosen a Nieto Senetiner Malbec from Argentina, telling us that Malbecs go really well with any red meat – well Argentina is famous for both, so that makes sense!  This is a rich dark red and the tannins enhance the steak perfectly, whilst the spicy finish is a great match for the superb black pudding mash.
~
Chocolate and passion fruit torte with lavender cream
Kenny has a quick check of the recipe before he starts on this – it is reassuring to find that even a former-pastry chef has to do this occasionally! He prepares the base of the torte by blitzing Scottish shortbread into small crumbs, combining with melted butter and cocoa powder, pressing into the base of metal rings and popping in the fridge to set.  
Next is a layer of chocolate mousse which Kenny says is like a cheesecake but without the cheese! This is music to my ears, as I always like the idea of a cheesecake but never actually like the end result. Kenny's mousse is a heavenly combination of lightly whipped cream, crème Anglaise, melted dark chocolate and the juice and seeds of a passion fruit.  This is spooned on top of the shortbread base, levelled off and put in the fridge to set.  It is served with crème Anglaise, delicately scented with dried Lavender flowers, and a scattering of passion fruit seeds.
Kenny's dessert is simply heavenly!  The mousse is much firmer than a usual mousse but still meltingly light and more-ish. The lavender cream is delicate in flavour and compliments it perfectly.
Neil hasn't brought a dessert wine but does tell us that a sparkling red goes excellently with dark chocolate, although can be difficult to source. I've never had a sparkling red and resolve to seek one out!
Thanks for a great evening Kenny, Neil and Hopetoun. The photos were mostly taken by Camille from Hopetoun and the lamb photo by Thea from Edinburgh Larder – thank you ladies!
So, there you have it, a beautiful menu to woo your Valentine ending with a little fruity passion!
Vohn
x
.
By the way, I received a complimentary ticket to the masterclass in return for writing this blog post.  I was not told what to write and all views and opinions are my own.
.