Hello dear reader,
Are you sitting there thinking "Sucos? What's a sucos?" or perhaps you have been to Brazil and know all about them!
Sucos simply means juice in Brazil but, oh what juices they have. Think tropical and exotic fruits, many of which you may never heard of – Jaboticaba anyone?The juices themselves are a simply a blend of fresh fruit and water. Sometimes herbs, especially mint, may be added.
Juice bars, or Casas de Sucos, can be found all over the place especially along the wonderful beaches in Rio.
They have long diverse menus of many different juice combos. One of the most popular sucos is Abacaxi and hortelã – that's pineapple and mint – so tasty and refreshing.
In an attempt to recreate a little piece of Rio in my kitchen, but using mainly local ingredients, I came up with this Strawberry, Melon and Mint Sucos. The strawberries were from the local market and the mint was home grown. I allowed myself the luxury of melon flown in from far away, as I saved it from being binned at the supermarket.
Strawberry, Melon and Mint Sucos – recipe
 – 400g strawberries, hulled
– 200g melon, roughly chopped
– 5g mint leaves
– 4 ice cubes
– 50ml water
Pop everything in a blender and blend until the ice is broken up and the juice is frothy. It should have the thickness of a smoothie or thick shake.
If you are trying to get your kids to have more fruit, pop it in a mini bottle with a cute straw!
If you are a morning smoothie drinker, like me, then you can reduce the calories by swapping the milk for water to make a suco instead. If you are a morning juicer, then you are losing some of the goodness by discarding the pulp. The big benefit of these Brazilian sucos is that they retain all the pulp of the fruit, which is where a lot of the nutrients are.
I for one will be swapping my morning smoothie for a morning suco!  Super-delicious and super-healthy.
How about you, dear reader, will you be trying a suco and what flavour combos would you like to try?
Vohn
x
P.S. Although there are no matches today (3rd July) I am entering this into Chris's Foodie World Cup bloggers challenge, as Brazil are the host nation this year.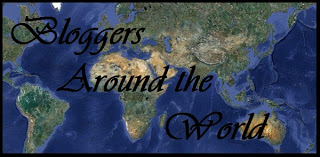 .