Scottish Black Stew is one of those dishes that really don't look very pretty at all but which taste amazing, scrumptious in fact!
Scottish Black Stew is a rich and unctuous slow-cooked stew, with delicately spicy back notes. It is perfect after a long walk on a cold wintery day!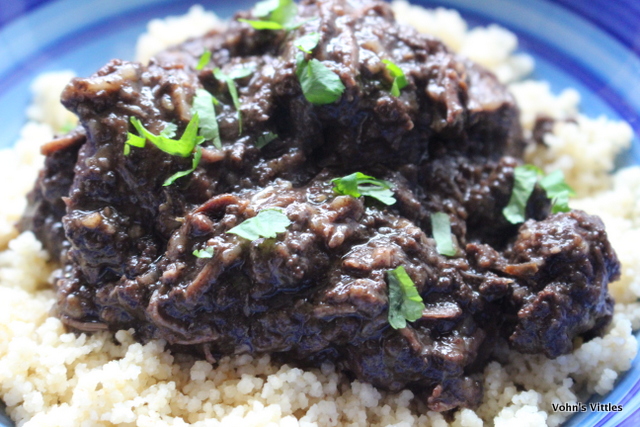 The "black" of this stew is black pudding, a traditional Scottish savoury which is a mixture of oats, barley, spices, suet and blood. Similar to a French blood pudding, it sounds fairly horrendous but is actually delicious and is often served as part of a full Scottish breakfast.  Stornaway Black Pudding, that is black pudding made on the Isle of Lewis, is so exquisite that it has achieved PDO grading. This rating is "Protected Designation of Origin" given by the European Union only to high quality products unique to a specific region – think champagne or parma ham! A quality Scottish ingredient indeed!
I usually only ever eat black pudding as part of a full Scottish breakfast or on a bread roll for a quick meal. The ubiquitous restaurant starter marries its flavour with delicate scallops and pea puree. However when I was musing what to add to the slow cooked ox cheeks I was planning, black pudding sprang instantly to mind. I could imagine them melting down in the slow cooker providing an unctuous spicy background to the rich ox cheeks and so a fabulous new dish was born.
Slow-cooked Scottish Black Stew – Recipe
500g ox cheeks
1 tbsp flour
1 tsp sea salt, crushed
1 tsp black peppercorns, crushed
1 tsp cayenne pepper
1 tbsp oil
25g butter
2 onions, thinly sliced
2 cloves garlic, grated
200ml red wine
1 tbsp tomato purée
300g black pudding, roughly chopped (with wrapping removed)
1) Remove any membrane from the ox cheeks. Mix the flour, salt, black pepper and cayenne pepper together on a plate. Toss the ox cheeks in this seasoned flour. Heat the oil in a frying pan over a high heat and sear the ox cheeks for a minute each side. Remove from the pan.
2) Turn the heat under the frying pan down to medium, add the butter and allow it to melt. Add the onions and fry for about five minutes until starting to brown. Add the garlic and any remaining seasoned flour and cook one minute. Add the wine, tomato purée, black pudding and 200ml water. Bring to the boil and then pour into a slow cooker (crock pot). Add another 100ml water to rinse the frying pan and add to the slow cooker.  Place the ox cheeks in the slow cooker and push down into the liquid until almost completely submerged.
3) With lid on, cook on high for one hour. Turn the ox cheeks over and push down into the liquid again. Replace lid, turn down to low and cook for a further 7-8 hours. Shred the ox cheeks through the stew. If seems too watery, then cook for another ½ hour on low setting with lid off.
Serve with fresh seasonal vegetables on top of rice/couscous or a baked potato. I enjoyed this on couscous and Mr Vohn enjoyed his with a baked potato.
This Scottish Black Stew is perfect for cold wintery days. Pop it on, go out for a long walk and you'll come home to delicious smells and a rich and unctuous warming stew, with delicately spicy back notes.
Enjoy!
Vohn
x