Hello Dear Reader,
February's theme for The Year of Food and Drink in Scotland is The Food of Love and what says Valentines better than a gorgeous box of chocolates or, even better, a box of gorgeous chocolates?
Scotland may not traditionally be known for its chocolate but our artisan chocolatiers are winning awards in competitions all over the world. The Chocolate Larder Food Map published by The List has a handy guide to 78 small-scale specialist chocolate producers in Scotland.
One master chocolatier in particular can boast the accolade of "Scotland's most awarded chocolatier" and this is Iain Burnett, otherwise known as The Highland Chocolatier. Iain's chocolates won bronze, silver and gold at the international Academy of Chocolate Awards; are awarded multiple gold stars every year from the Great Taste Awards; and hold the current title for "Product of the Year" from the Scotland Food and Drink Excellence Awards, beating off competition from every other artisan food sector in Scotland!
You can imagine my delight when I was offered a sample box of award-winning handmade chocolates by Iain Burnett to review here on Vohn's Vittles! I could barely contain my excitement when they arrived. Carefully packaged the unwrapping was rather like an adult version of the kid's game pass-the-parcel, as I took off the polypostal bag to reveal a stiff cardboard box, which revealed a padded envelope, which contained a box wrapped in bubble wrap. A note told me who had packaged my parcel, which was a lovely touch. Then inside was this beautiful little box…
The scent of quality chocolate was already permeating from the box but when I lifted the lid I actually exclaimed "Oh My God", as I was hit by an intense chocolatey aroma with sweet caramel notes. It was too dark that evening to take photographs, so I had to wait until the next day for any sampling. I may however have regularly opened the box in the meantime just to look again at how pretty they are and to breathe in that intoxicating scent!
The aroma, of course, is all down to the quality of ingredients that Iain uses. His single-origin cocoa is sourced from the volcanic island of São Tomé in the South Atlantic. Iain specially selected this for its intense cocoa with exceptional range of fruity, aromatic and spicy characteristics. This is then blended with fresh cream, again specially selected, from one single local herd of cows near Iain's chocolate kitchen in beautiful Grandtully in the Scottish Highlands.
The first chocolate we tasted was the Dark Velvet Truffle, proudly emblazoned with Iain's name.
This truffle looks pretty solid but is a decadently silky smooth melt-in-the-mouth truffle. The flavours seem strong and yet subtle, the ganache itself rich and dark but deliciously mellow. It is a sign of the many years of work that Iain put into developing his Velvet Truffle range that a simple mix of chocolate and cream produces such an array of flavour notes. Highly recommended!
Next to try is the Raspberry Truffle, described as a crushed fruit ganache with a hint of black pepper.
This looks almost too pretty to cut into but proceed we must! The crack of outer chocolate and we're in. The ganache in this one is a little denser, with a delicate raspberry flavour followed by rich black pepper which lingers on the tongue. In fact the black pepper is slightly too harsh – almost an assault on the palate. I wonder if this should be a seasonal chocolate when the fantastic flavour of Scottish-grown summer raspberries would shine through.
The Lime Truffle looks even prettier with it pale green and cream floral decoration. This truffle's description promises tangy lime crushed over white chocolate with a hint of chilli.
I often find white chocolate too sweet but the vibrant tang of lime cuts through the sweetness in this truffle. A chilli heat surprise kicks in and then lingers gently on the tongue before melting away to the back of the throat. The cascade of flavours in this truffle shows the commensurate skill and understanding that Iain has of his ingredients and how to balance them perfectly. This truffle is clearly made by a master and is, by far, Mr Vohn's favourite.
Our final tasty treat is Iain's Ginger Truffle, with its classy scrolls. The cute little booklet that accompanies the chocolates explains that, in this truffle, Nigerian ginger brings out São Tomé's spicy notes.
These Ginger Truffles are the hit of the show for me. Melt-in-the-mouth rich dark ganache with tangy and vibrant ginger and a hint of other spices. I can't decide if other spices have been added, or if Iain has magically coaxed out more of the natural spice characteristics of the single-origin chocolate! The ginger is exceptional, building in waves of flavour, and a pleasant ginger heat still lingers gently on the tongue several minutes later. There is only word to describe this truffle and I could eat several, one after another, the ginger and spice notes encouraging me addictively back for more. Exquisite!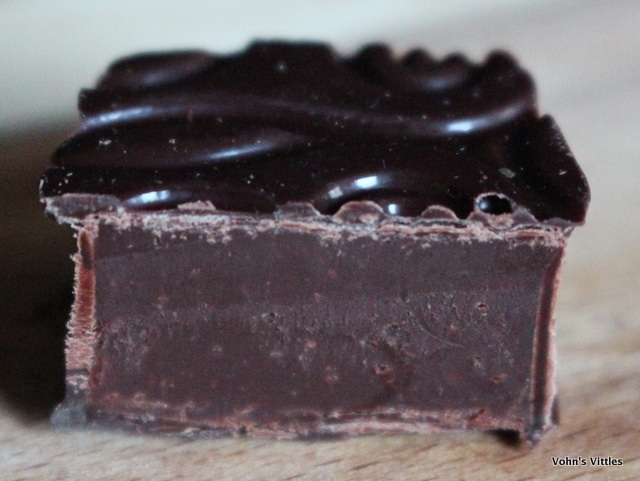 These are very special handmade chocolates, to be eaten individually and savoured long after the flavours have drifted subtly away. They warrant taking time to consider before indulging in the next decadent morsel.
I have already decided which chocolates I want to purchase in my next selection and Iain's online shop has a section especially dedicated to Valentine's chocolates, including two special new flavours of his signature Velvet Truffles.  Or you can visit his new shop in St Andrews, right here in beautiful Fife. There is even a chocolate-tasting event hosted every Thursday evening at 5.30pm! That is a definite on my next trip to St Andrews.
If your Valentine gesture needs to be more than just chocolates – perhaps a weekend away with a ring of Scottish silver, then you can visit the Scottish Chocolate Centre in the picturesque village of Grandtully. This is on the banks of the river Tay, just a few miles from Aberfeldy renowned for its white water rafting. What a day out that combination would make – beautiful scenery, some adrenaline-fuelled fun and an immersive chocolate experience, tasting Iain's sublime wares! Wonderful!
Enjoy!
Vohn
x
Iain Burnett, The Highland Chcolatier
Website: http://highlandchocolatier.com
Tel: 01887 840775
Chocolate Centre: Legends of Grandtully, Perthshire (open daily 10am-5pm)
Chocolate Shop: 145 South Street, St Andrews, Fife (open Mon-Sat 10.30am-5.30pm, Sundays 11.30am-4.30pm)
Chocolate Counter: Harvey Nichols, Multrees Walk, Edinburgh (open Mon-Sat 10am-6pm, Sundays 11am-6pm)