Well hello there,
Here we are already at week three of Great British Bake Off!   We've had Jaffa Cakes and Viennese Whirls and this week was bread week and the technical challenge was Dampfnudel. The what now?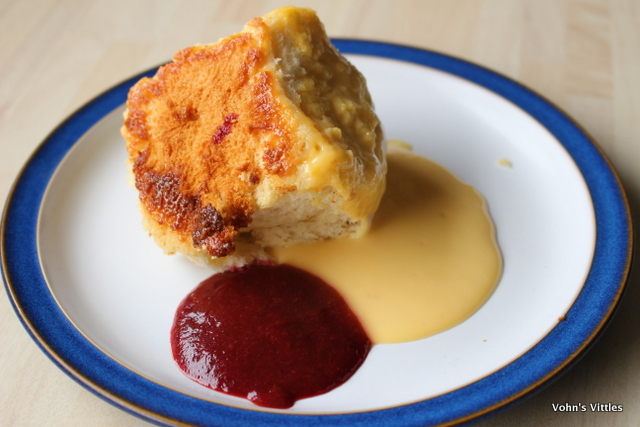 Unsurprisingly the fiendish recipe is Paul's and the online version tells us that dampfnudel are sweet steamed buns, a German speciality, and should have a caramelised bottom and soft pillowy tops.
Um OK then. Steamed? On bake off? Not sure that's a bake Paul!
I was amused to find later that twitter had gone haywire on the subject of whether steamed was an acceptable cooking method for a baking show.  Ooh Paul plunges the Bake Off world into controversy again! 😉
So on to the dampfnudel and again I am entering into  Mummy Mishaps Great Blogger Bake Off blogging challenge.
The dough for dampfnudel is an enriched yeast dough made by mixing 500g strong white flour, 100g caster sugar, 7g sachet fast-action yeast, 150ml warm full-fat milk, 2 large beaten eggs and 70g melted butter.
Make sure to place your sugar and yeast on opposite sides of the flour before adding in the liquids.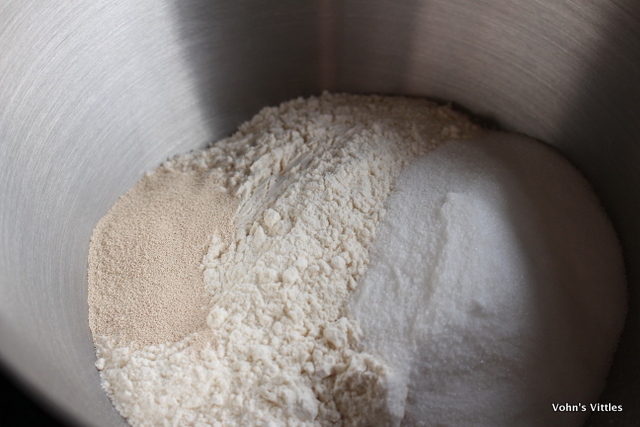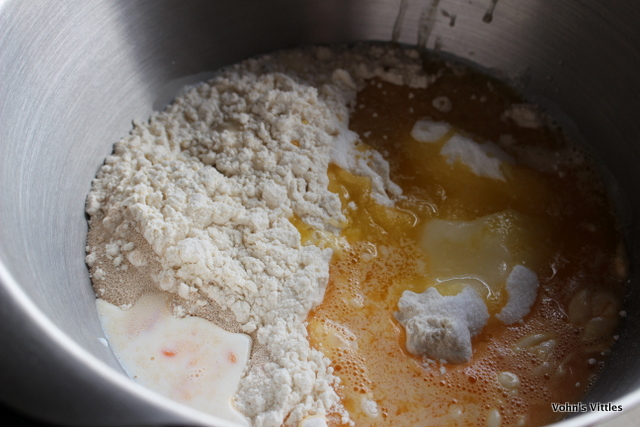 The mixture should be brought together by hand until all the flour is incorporated.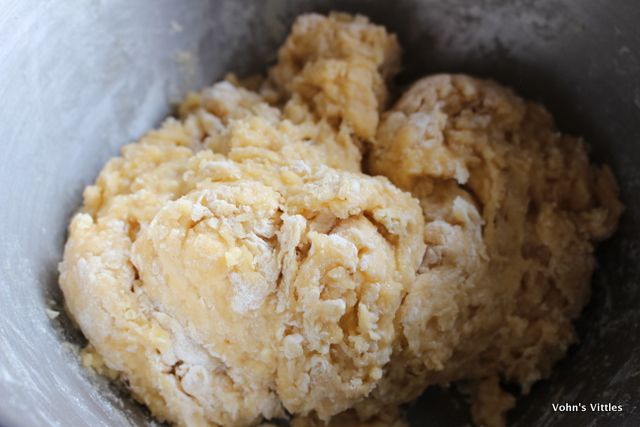 Then kneaded by hand for 5-10 minutes. I used my Kenwood stand mixer to do the kneading for me and it was ready in about seven minutes on a medium setting.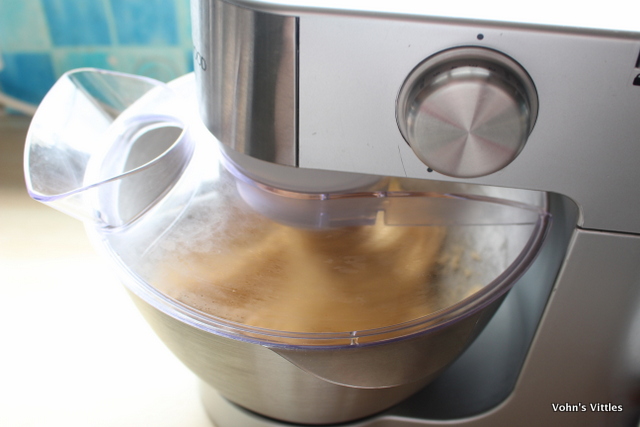 You'll know it's ready when it starts to form a soft, smooth skin. Knead in the grated zest of one lemon.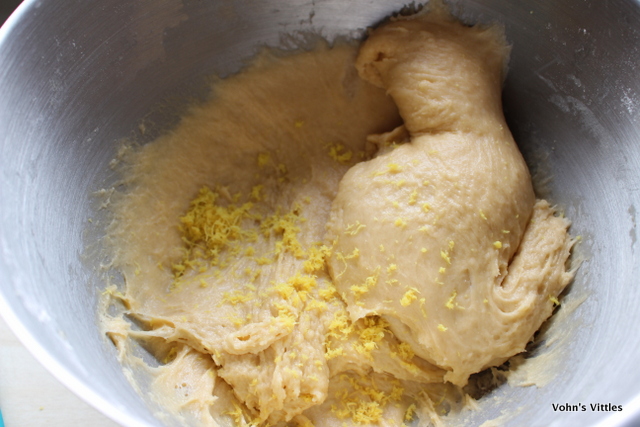 Now tip the dough into an oiled bowl, cover with oiled cling film and leave in a warm place to rise until doubled in size. This will take about an hour.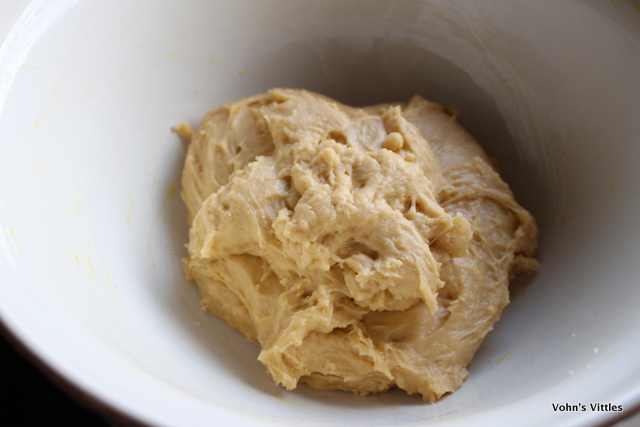 This is my kind of recipe, as there are short amounts of work interspersed with rest periods. It suits my illness, which is mild enough to enable me to be able to do most things but does mean I have to pace and rest between activities, as I have limited energy. This was a nice recipe to do on a lazy afternoon at home. I'd hate to have to do it under time pressure!
Next you make the plum sauce and vanilla sauce. On reading the vanilla sauce it sounded like a rich custard, so I cheated and bought a tin of custard. This challenge is all about trying new things and I've made custard many times. Although it is easy, it was a step too far for my limited energy levels.
I did like the sound of the plum sauce though so popped to my local farm shop for fresh plums. Sadly they are not quite ready in Scotland – maybe another week or two, so I had to make do with supermarket plums from Spain. Ooh – I felt very bad buying them. I always try to buy my fresh food in season and as locally as possible.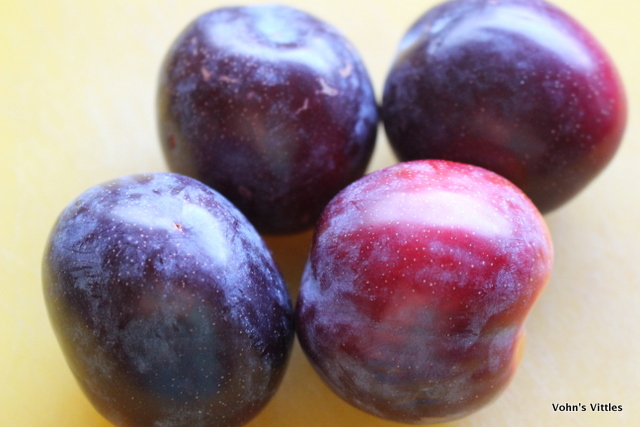 The plum sauce is really simple. Stone and chop the plums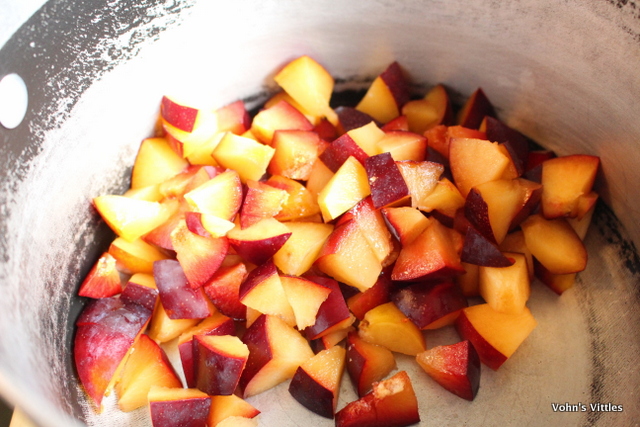 and pop into a pan with the juice of an orange and 50g demerara sugar. Heat over a low heat until the sugar has dissolved, then bring to a boil and simmer for 10 minutes until the plums are squashy. Stir in a pinch of ground cinnamon, then allow to cool slightly before blending to a thick sauce.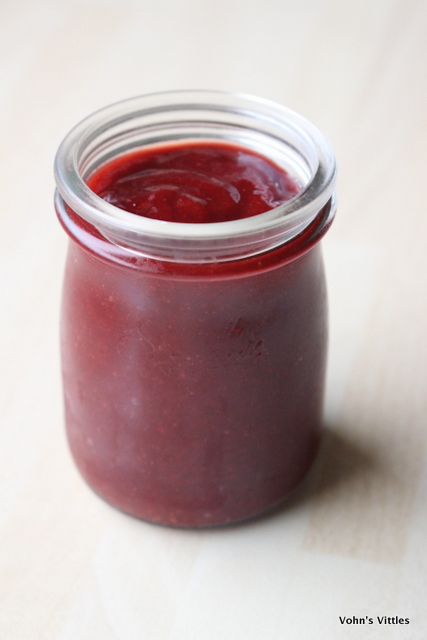 Once the dampfnudel dough has risen,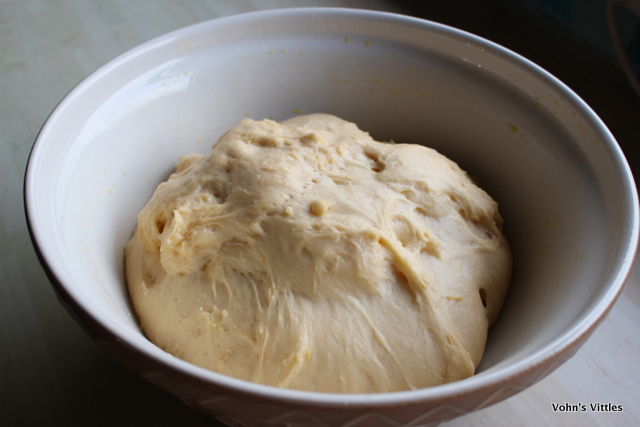 knock the air out of it. Then divide into 12 pieces and roll into balls.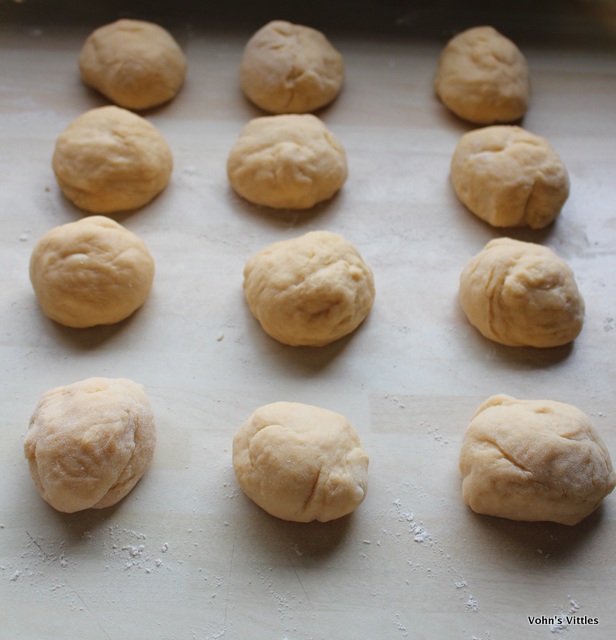 I have no idea why but by this stage the strange word dampfnudel has taken on a variety of weird and wonderful accents in our house with much hilarity. The one that has stuck with it is Swedish. It has a lovely lilt to it! Sorry Germany!
Heat 25g butter, 150ml full-fat milk and 25g caster sugar in a large sauté pan until the sugar dissolves.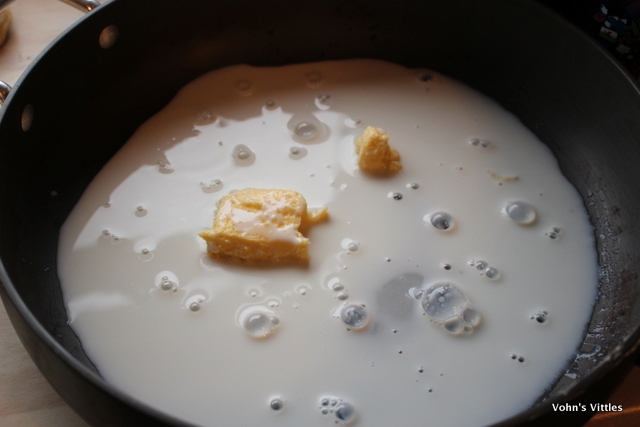 Remove from the heat and add the dough balls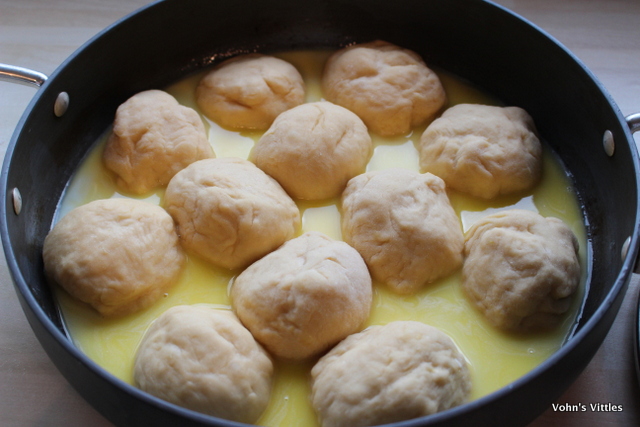 Leave to stand for 15 minutes.  The recipe doesn't say whether or not the lid should be on – I decided to put mine on. They rose to nearly double in size.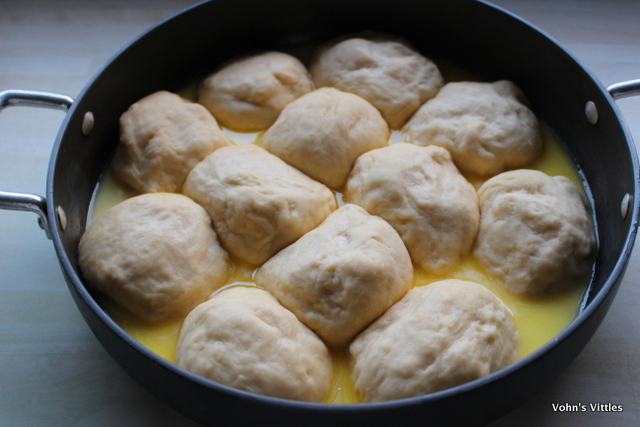 Next place the pan on a low heat and cook covered for 25-30 minutes. I resisted peeking until 25 minutes had gone past, as Paul had said they could collapse if the lid came off too early. I really wanted to look!
At 25 minutes, I peeked! They are huge! Are they meant to be that big?!!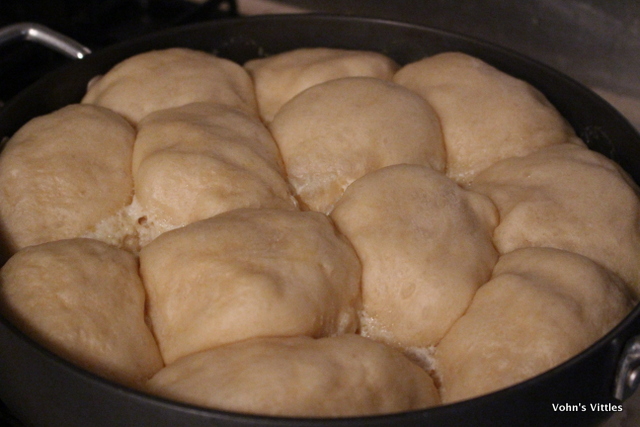 They still smelt quite doughy and it took another 15 minutes before they were springy to the touch. I think they were just too huge! Did I not knock enough air out after the first rise? No idea!
You then remove the lid and cook for another 5-10 minutes to caramelise the base.  I could smell the centre ones and knew they were ready while the outer ones were still not caramelised. With such a large pan, it is near impossible to get even heat distribution.
If I make these again I will half the recipe and just make six, so it is easier to get them all cooked at the same time. I managed about six decent ones out of the twelve.
Serve the dampfnudel with its golden crust upwards and the vanilla and plum sauce on the side.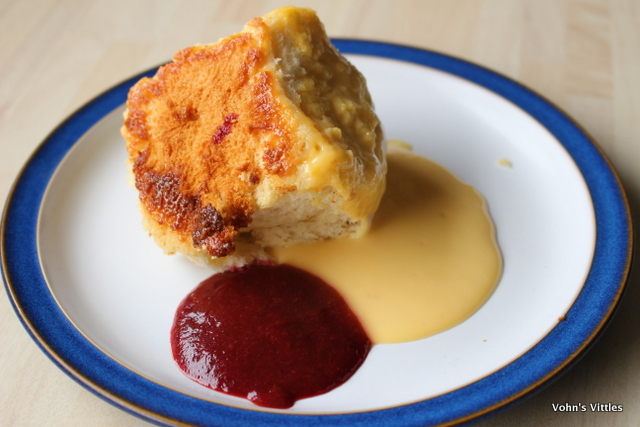 I really enjoyed the caramelised base but didn't much like the rest of the dampfnudel, which is basically a large bun of plain sweet bread. Although they are light in texture I found they sat heavy on the stomach.  They really aren't my kind of thing – if I'm going to be eating a bunch of empty calories I want to feel thoroughly treated! If I'm going to spend half a day cooking, I want to end up with something that feels decadent! Plain sweet bread just doesn't do it for me.
Mr Vohn did enjoy his dampfnudel and even asked for seconds, which isn't like him. However, even he didn't think it was worth all the effort – he is my chief dishwasher and this dish generated a lot of them! The dampfnudel pan will definitely need to be soaked overnight!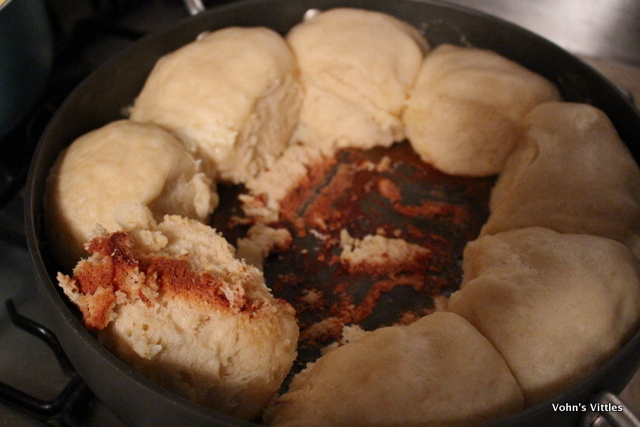 It might be nice to serve dampfnudel as a rustic dish at a large family gathering. It would be fun to plonk the whole pan on the table for everyone to dig out their own dampfnudel. You'd need to be very careful with the cooking times though, so none of them were sticking! I don't think I'll risk it!
One delightful thing that did come out of this challenge was the plum sauce, which I will most definitely be making again and I'm already dreaming of adaptations.  I think maybe some allspice instead of cinnamon and I'll freeze some to have with Christmas puddings in a few months time.  Mmm – now that is a decadent steam pudding and a fraction the hassle of dampfnudel!
Vohn
x