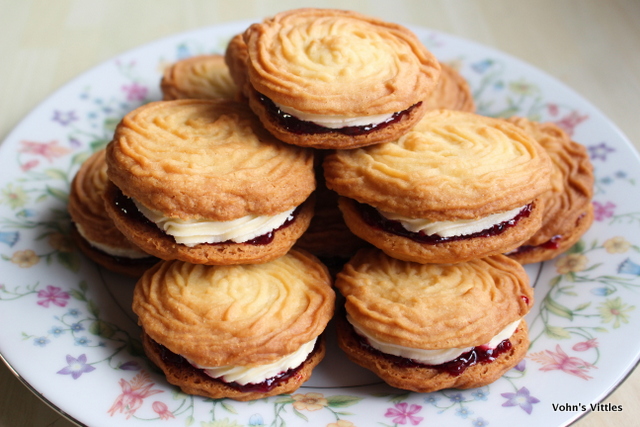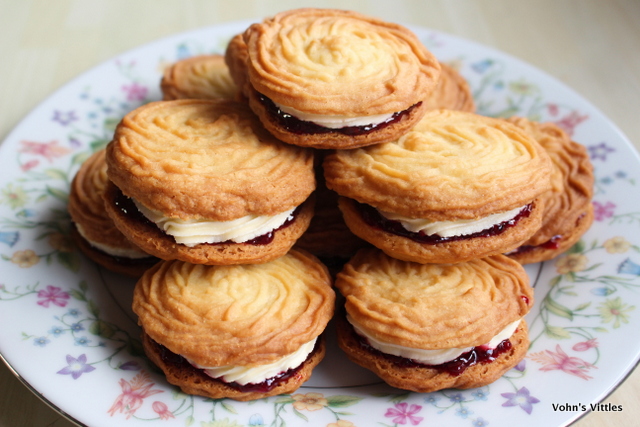 Last week was cake week on Great British Bake Off.  The technical challenge was Jaffa Cakes and I would make them again. This week was biscuit week and the technical challenge was Viennese Whirls. I can't say they are likely to ever be happening again in my kitchen! More on that later!
So this week's recipe is Mary Berry's recipe for Viennese Whirls. Again I am entering into  Mummy Mishaps Great Blogger Bake Off blogging challenge.
The first task is to make the raspberry jam. I was already concerned about how difficult the piping might be, so I skipped the jam stage.  Ooh – cheating already – controversial!
Next Mary says to use a 5cm round cutter & draw around it onto greaseproof paper, so you have a piping guide. I couldn't find my cutters, so just used a little glass that was the correct width. Remember to turn your paper over once you've drawn your circles, so none of the pencil ends up in your baking!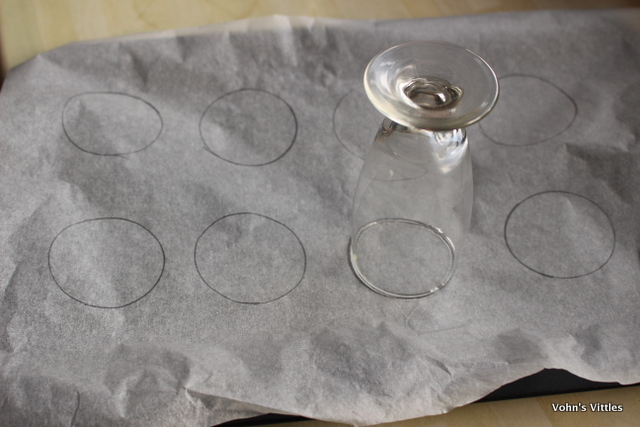 Now put 250g very soft butter into a mixing bowl with 50g icing sugar.  I was so glad Mary said on Bake Off that it is essential to make sure the butter is soft, very soft, otherwise it is too stiff to pipe the mixture. I immediately paused Bake Off (much to the annoyance of my family!) and went to take the butter out of the fridge, so it would be out overnight.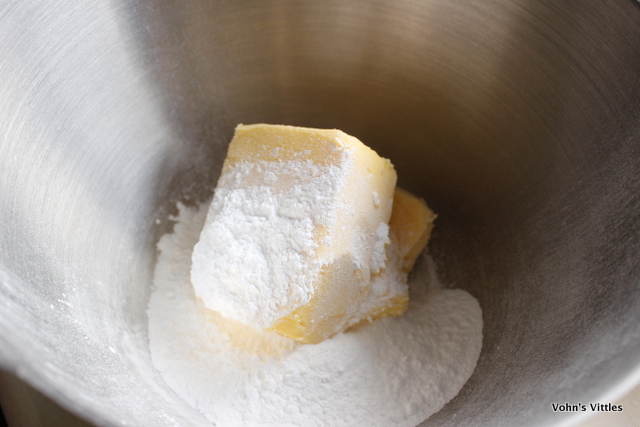 I was really pleased at how soft it was and thought the whole recipe was going to be a doddle.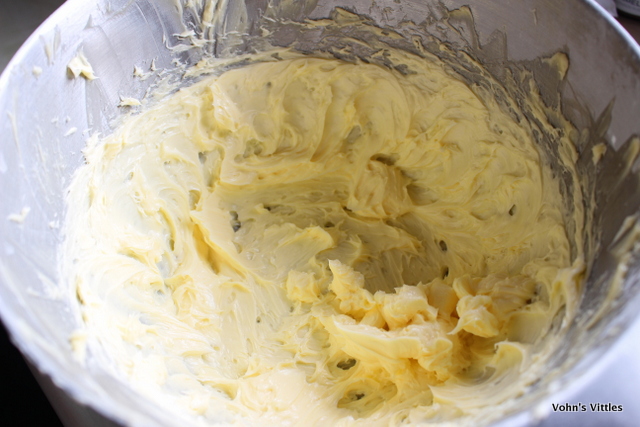 Beat the mixture until pale & fluffy, then sieve in 225g plain flour and 25g cornflour. Beat well until thoroughly mixed.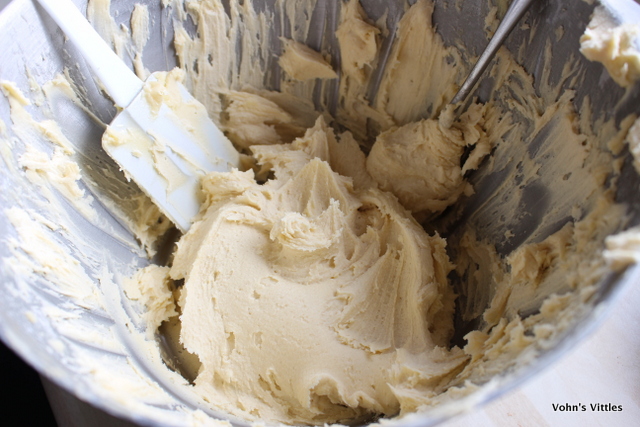 Now spoon into a piping bag with a medium star nozzle. This is where I had my first issue, as I had no idea what was meant by "medium". So I sorted through the nozzles I had and chose the one I thought would give the best shape. I have no idea if I should have used a bigger one or not.
Mary was very specific with her instruction of "pipe 24 swirled rounds (not rosettes)". I have no idea what this means!
I think what I piped is rosettes but it seems to be what most other people have done too, so no clue. Answers on a postcard please bakers!!
I debated over whether to start in the middle and work out…
or to start on the outside and work in…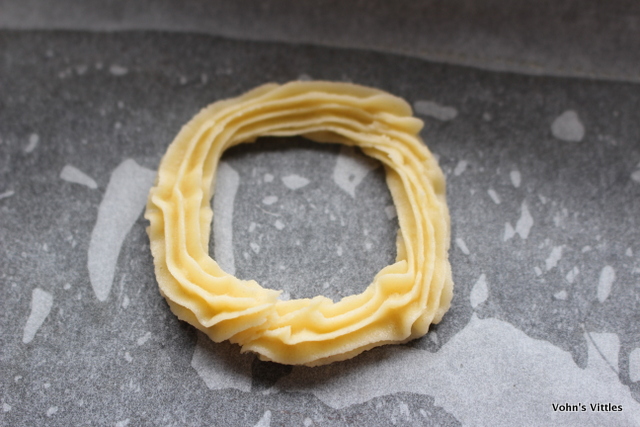 My best ones seem to be from starting on the outside, so I went with that. They do all seem a bit flat though. I think I maybe moved the piping nozzle too quickly – I think I needed to go slower, so more mix came out as I was piping.  I was finding it hard going though, despite the super soft butter. The second tray was a little better than the first.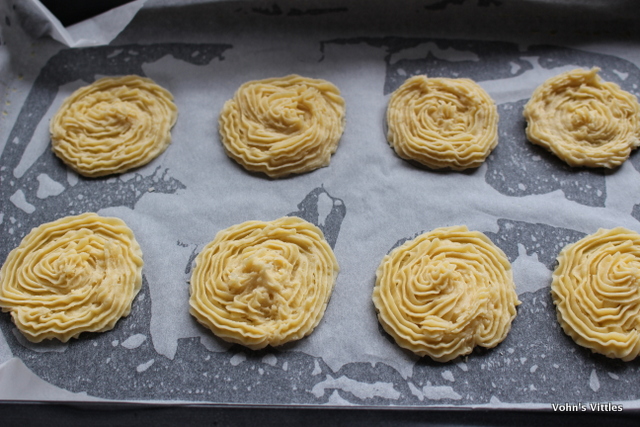 Buy the time I got to the third tray, I had way too much mixture left, so I piped a double layer to get a lovely thick biscuit. A mistake perhaps?!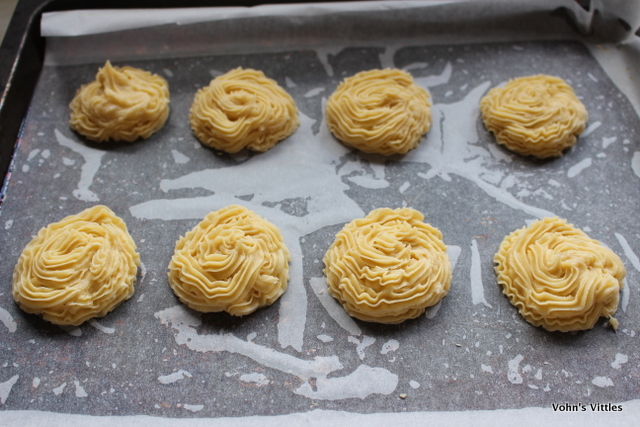 The top tip listed listed in the recipe is to pop each tray in the fridge for about 15 minutes before baking to help them keep their swirl pattern. I didn't have time but I did put them in the fridge for a few minutes as I piped the next tray, which I think helped hold their pattern. Next bake at 190°C for 13-15 minutes.
Tray one, as expected, were pretty flat and a little over-baked.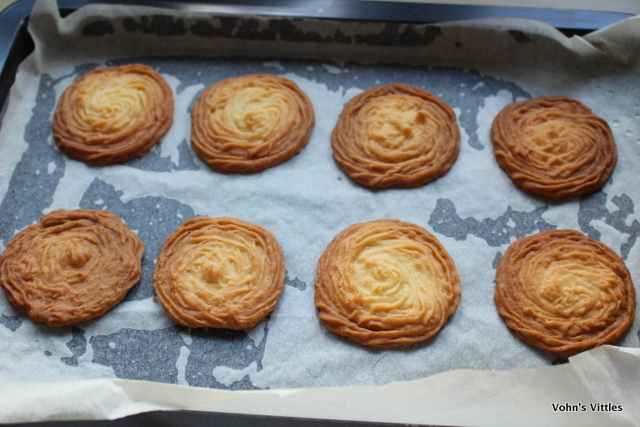 Tray two were a better thickness but still a little toasty on the edges.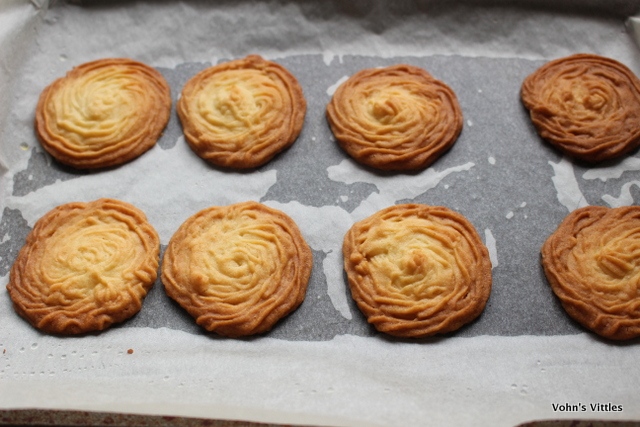 Tray three looked like a lovely bake but felt like they needed another few minutes in the oven as they were so thick. Unfortunately by this stage I was running late to go collect Mr Vohn, so they didn't get their extra few minutes. Of course, I regretted this once I tried to lift them onto the cooling rack and wasn't gentle enough because I was in a rush. Fail!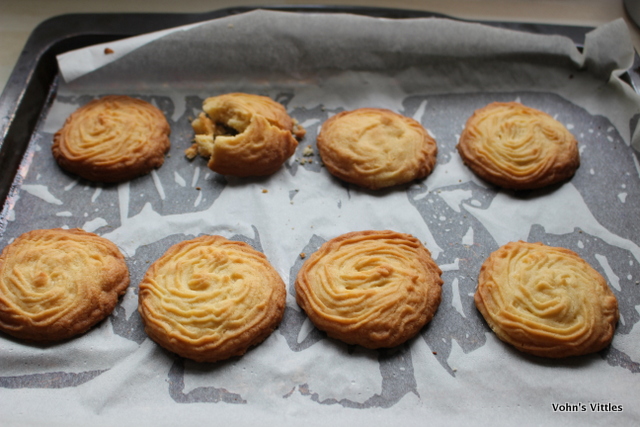 Fail!
If I was in the Bake Off tent, I'd be a biscuit short of the challenge!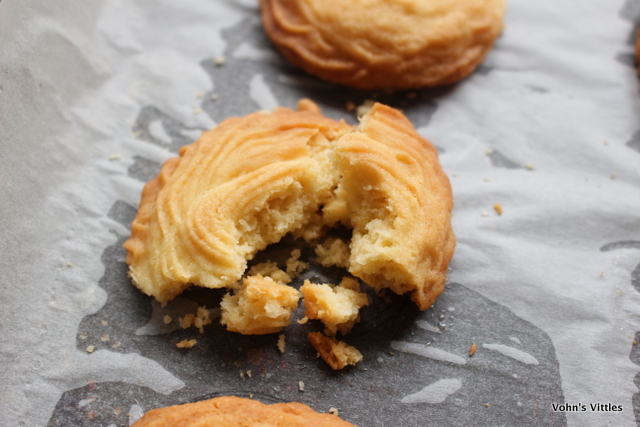 23 biscuits cooling on a tray.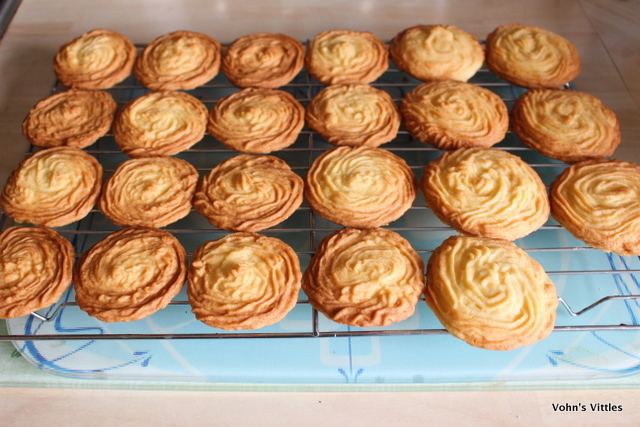 Next up is to make the buttercream for the middle. No sweat I thought as I've been making buttercream since I was a kid. What I hadn't really realised was that this meant more dreaded piping!
So for the buttercream, beat together 100g soft butter with 200g sieved icing sugar until light & smooth. Then spoon into a piping bag – gosh I hate those two words now!
Next take the jam you made earlier (oops – I'd already skipped that step) but I had done so knowing I had some delicious hand-made blackberry jam from Pittormie Fruit Farm! Anyhoo, put a spoonful of jam on the flat side of 12 biscuits and place jam-side up on a cooling rack.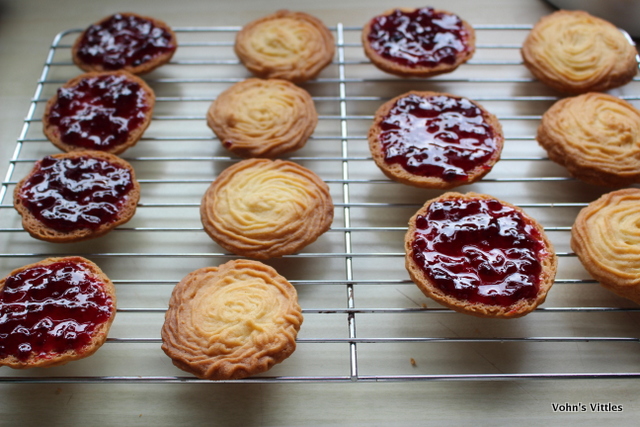 Next pipe (arghhh) swirls of buttercream on top. Actually piping buttercream wasn't quite so hard as piping the biscuits but my arms were tired and sore by this stage, so it seemed as hard to me.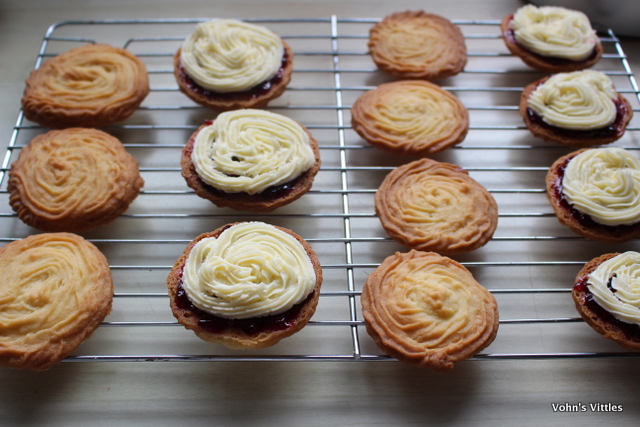 Then sandwich on the top. I had chosen the best 12 patterned biscuits to be the tops.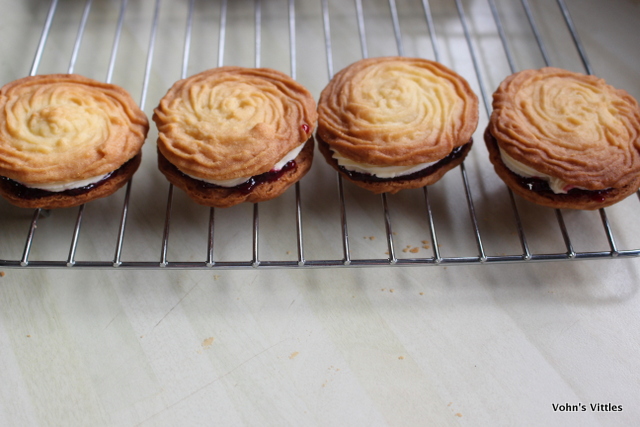 The swirls have stayed in place quite well on most of them.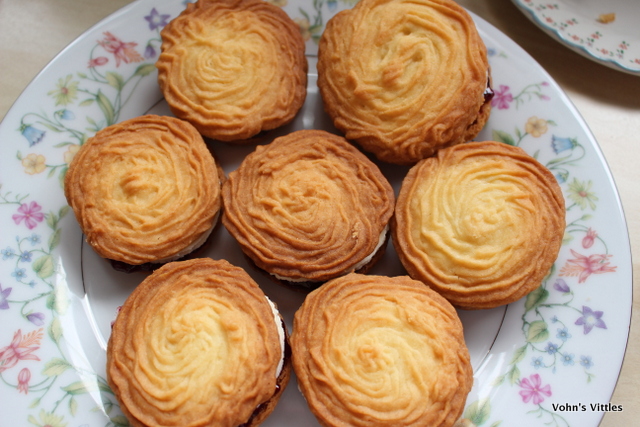 and here's a plateful looking very tempting.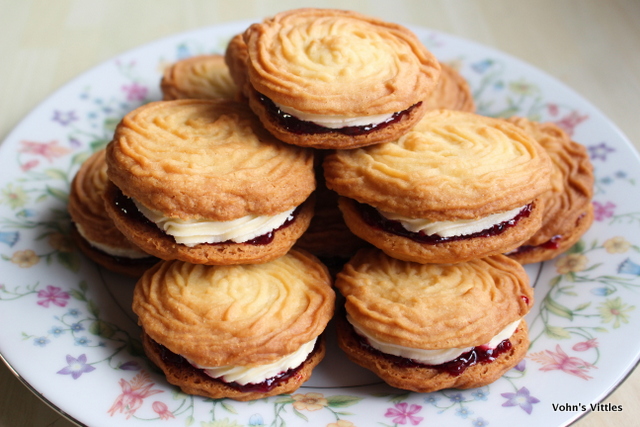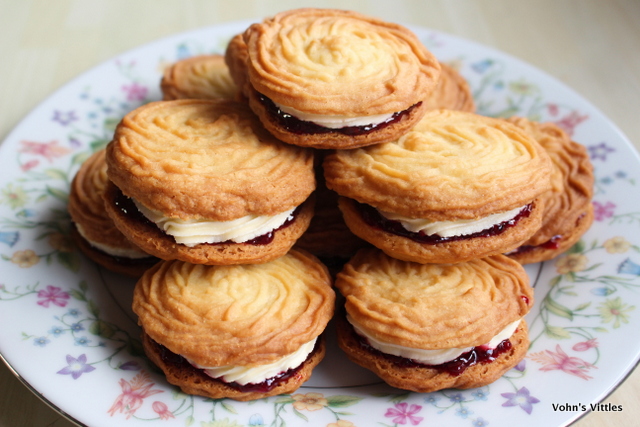 So, you might remember me saying at the start that I don't think Viennese Whirls are likely to ever be happening again in my kitchen!  Don't get me wrong – they are delicious! However as someone who suffers from an illness that causes pain & fatigue, all the piping work was too much for me. My hand was cramping for two days afterwards and my arm was aching too. I was also exhausted and had to cancel my plans the following day!
So my top tip from this recipe is – if you suffer from any sort of illness that effects your energy levels, or causes joint/muscle pain, then I'd recommend you walk on by this bake. If you are in generally good health, then go for it – you'll have a fun workout along the way!
However all is not lost – this will make an easy tale to explain my fibromyalgia to friends. Sometimes they'll see me in the morning and I seem fine, only to then have me cancel plans later the same day. Or, as happened on this occasion, cancel all my plans for the following day or two because I am so tired and in so much pain. It can seem very hurtful or confusing for them.
"I just saw you and you were fine!"  "What on earth happened in between?" they cry!
It is a careful balancing act to stay well from this illness and sometimes all it takes to make me ill again for a couple of days is something as simple as stupidly thinking I am well enough to make Viennese Whirls!
Vohn
x