Hello Dear Reader,
Are you a fan of whole grains?  Quinoa from Peru, teff from Ethiopia, we are travelling the world and embracing these little kernels of goodness.
What to do, though, if you prefer to eat local produce?
I'm in Scotland and one of my favourite locally-grown wholegrains is Rye.  This healthy little wholegrain can be use to replace any of the so-called "global grains" in any dish and requires about 45 minutes cooking time.  It has all the usual benefits of buying local, including being much cheaper than many other wholegrains.
Sadly, it is difficult to buy wholegrain Rye in the UK.  A quick search of the top four supermarkets shows that none of them stock it and you will need to buy online, or in a health food shop.  Much easier to find, though, is Rye flour.
Flour milled from wholegrain Rye is dark and makes delicious close-textured breads like Pumpernickel.  A lighter rye flour is made by sieving out the bran (i.e. the outer skin of the wholegrain) and this can be used for baking cakes and regular breads.  Baked goods made from Rye have a longer shelf-life and taste fresher for longer.  A great benefit considering how much bread we apparently throw in the bin!
The production of Rye for human consumption is decreasing in the UK, with a lot of the land now being given over to production of a rye hybrid for use as biofuel.  If you are a fan of Rye, I urge you to use it, or risk losing it!  Here is an easy but tasty crispbread using wholegrain Rye flour.
Cheese and Pumpkin-seed Rye Crispbreads – recipe
– 350g rye flour
– 1 tsp baking powder
– 1 tsp sea-salt
– 1 tsp freshly ground black pepper
– 50g sunflower seeds
– 25g sesame seeds
– 200ml water
– 100ml oil (I used cold-pressed rapeseed oil but just use whatever is produced locally to you)
– 100g pumpkin seeds
– 50g grated hard cheese (I used a local mature cheddar)
1) Place a large baking sheet in the oven and pre-heat to 200ºC.
In a large bowl mix flour, baking powder, salt, pepper, sunflower seeds and sesame seeds.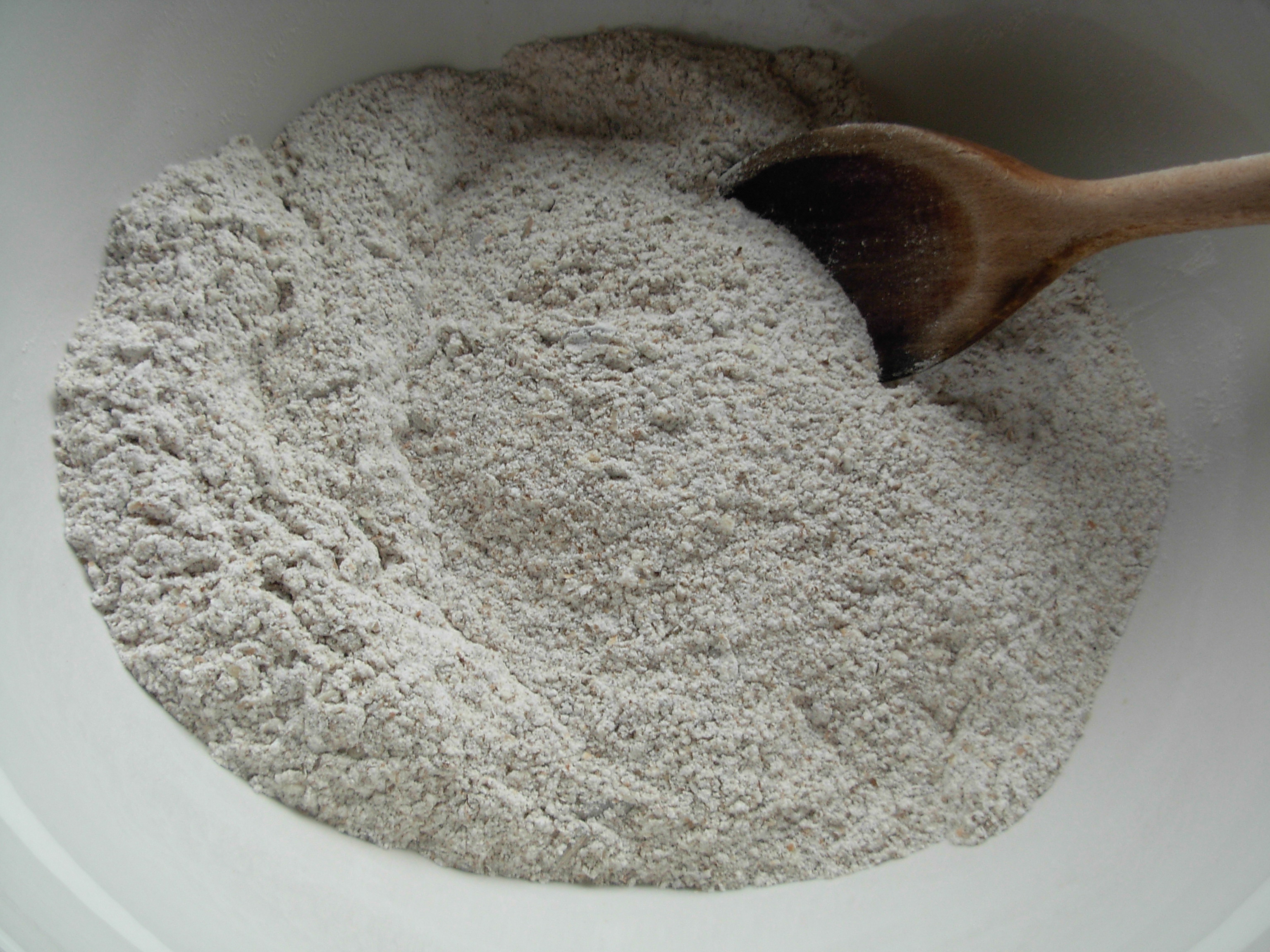 2) Add water and oil and mix well.  Use hands to bring together to form a dough.
Add extra water 1 tbsp at a time, if dough not coming together.
3) Take ⅓ of the dough and roll flat between two sheets of greaseproof paper.
You want it to be as thin as possible.
4) Remove the top sheet of greaseproof paper and score the top of the dough in whatever shapes you want the final crisp breads to be.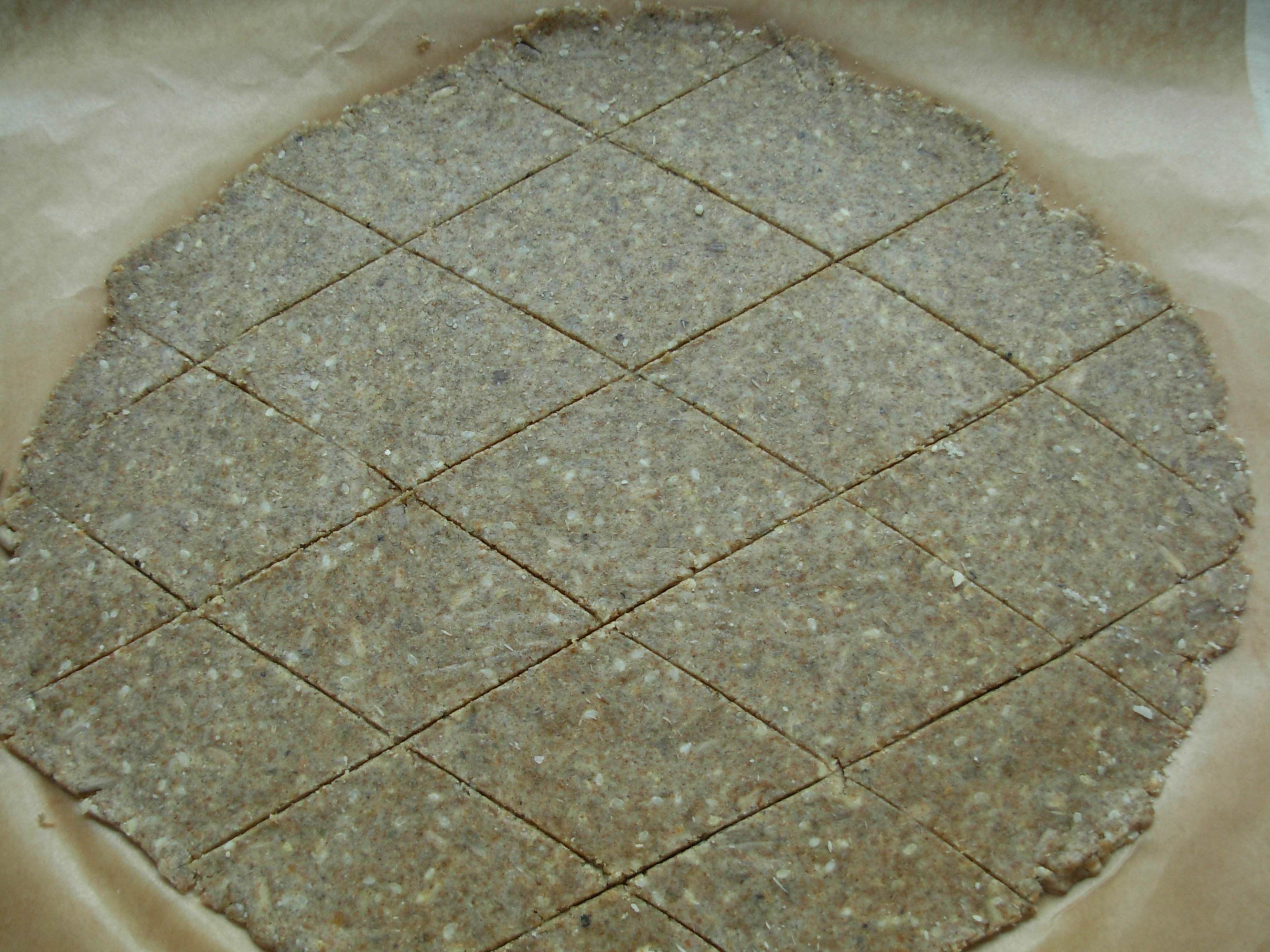 5) Prick all over gently with a fork.
6) Sprinkle over some of the grated cheese and then the pumpkin seeds.  Put the top sheet of greaseproof paper back on and roll gently to push the cheese and seeds into the dough.  Remove the top sheet of greaseproof paper.
7) Slide the greaseproof paper with crispbreads onto the pre-heated baking sheet and bake for 15-20 minutes until crisp.
Remove from oven and leave to cool for 5 minutes.
8) Break the crispbreads up and leave to cool on a cooling rack.
Repeat until all dough is used up.  Store in an airtight tin.
~
I do hope, dear reader, that you will give Rye another try and not always choose whole grains imported from far away.
Vohn
x
P.S.  If you liked this recipe, please press the "follow via email" button below and you will get all my new recipes straight to your inbox.  Easy!
.
.
.