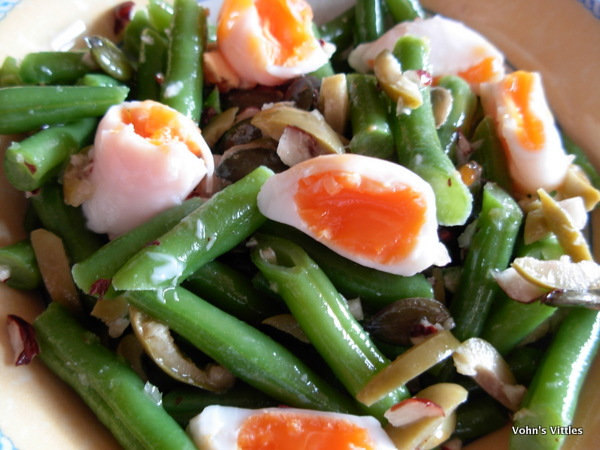 Hello Dear Reader,
Today's recipe is for a lovely salad lunch ready in 10 minutes. Serving a half-portion also works well as a starter, awakening the taste buds but with the juicy beans cleansing the palate.
I love the contrast of tastes – from the spicy sourness of the balsamic vinegar to the sweet mellowness of the hazelnuts and richness of the quail's eggs, all livened up with the occasional tang from the olives. The textures are great too – slightly crisp beans, soft quail's eggs, and crunchy hazelnuts and pumpkin seeds.
I developed this recipe for the "Maille Culinary Challenge".  You can read all about this in my last recipe for Wild Garlic and Hazelnut Pesto, which used Maille's hazelnut oil.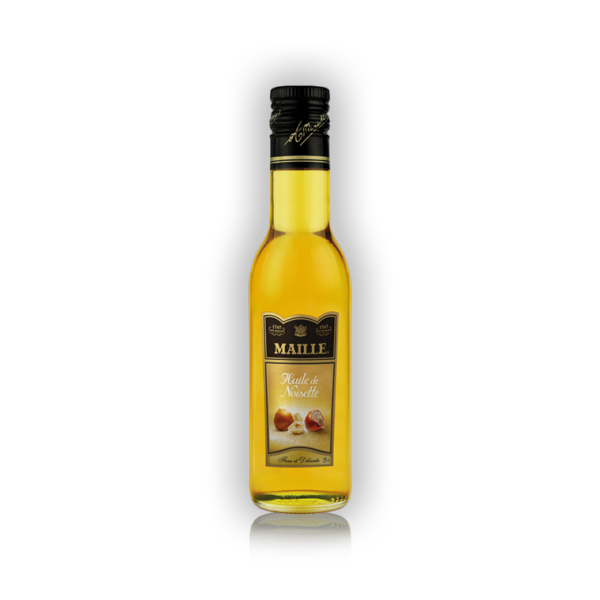 Today's salad also uses the hazelnut oil, along with their Aged Balsamic Vinegar of Modena. This is a bit pricey at £12 for a 250ml bottle but I have to say it is worth as it tastes exceptional and the flavour is so intense that a little goes a long way.
Green Bean and Hazelnut Salad with Quail's Eggs – recipe
Serves one for lunch, or two as a starter
– 100g green beans
– 6 hazelnuts
– 6 green olives
– 3 quail's eggs
– 1 tsp Maille hazelnut oil
– 1 tsp Maille balsamic vinegar
– 1 tbsp pumpkin seeds
1) Top and tail the green beans and cook in boiling salted water for 4 minutes. Drain the beans & plunge into ice-cold water to stop cooking & retain their colour. Drain, then dry on clean kitchen towel/paper and cut into bite-sized lengths.
2) Roughly chop the hazelnuts and slice the olives.
3) Next you need to poach the quail's eggs.
Opening quail's eggs can be fiddly. The easiest way is to make a small slit in the shell with a small knife and then open up shell and gently drop the egg into a small dish or ramekin. Once all the quail's eggs are open, drop them gently one by one into hot, not quite boiling, water. Poach for one minute for runny yolks and a little longer if you like them firmer. Lift out with a slotted spoon and place into ice-cold water to stop the cooking process.
4) Toss the green beans and olives in the hazelnut oil. Add the balsamic vinegar and toss again. Then add the hazelnuts and pumpkin seeds and toss again.
5) Place the salad into a serving bowl and top with the poached quail's eggs.
If, like me, you like your eggs quite well cooked, you can split each egg in half so the bright yellow yolk is showing.
I love how pretty the colours are.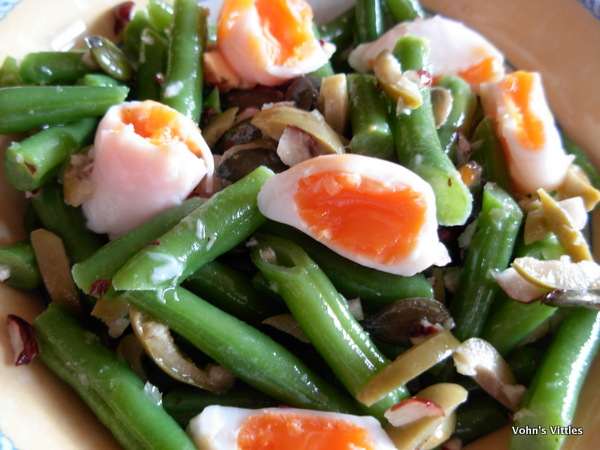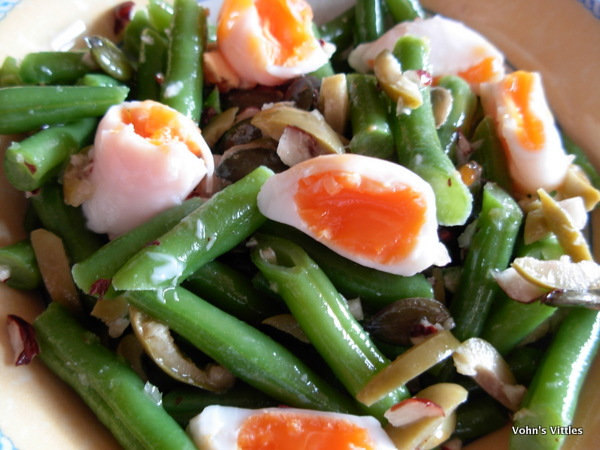 If, like Mr Vohn, you prefer your yolks runny, then just cut them open so the yolk oozes out into the salad.
 Delicious lunch in about 10 minutes!
Enjoy!
Vohn
x
Legalese: Maille sent me two complimentary products to use to enter their Culinary Challenge
~
Update: Since Maille is a French company and green beans are also known as French beans, I am entering this into Chris's Foodie World Cup bloggers challenge, as France are playing today (25th June 2014).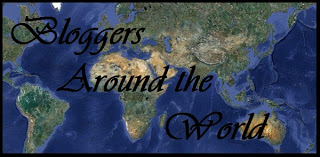 P.S. If you like interesting salads, then here are a couple more of my creations for you to enjoy…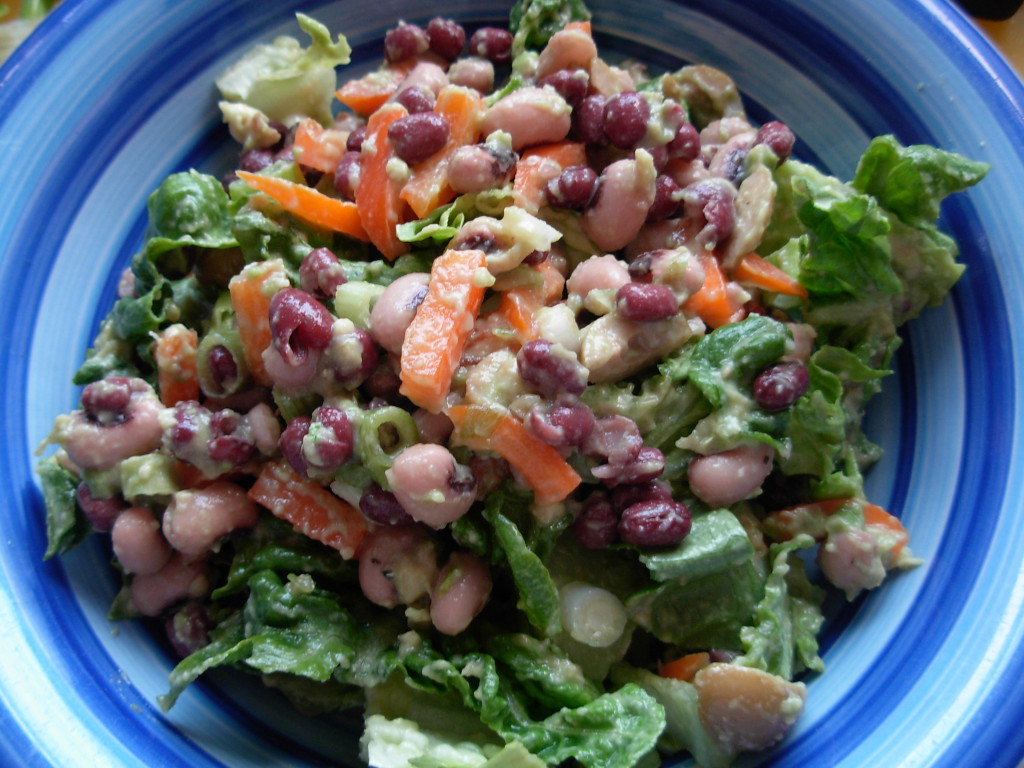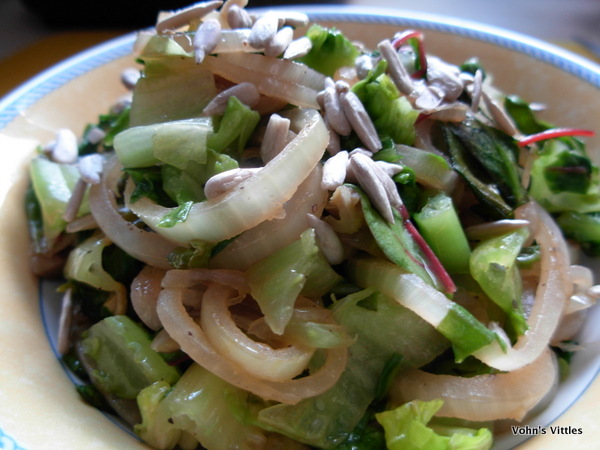 ~
If you want to remind yourself to make my Green Bean and Hazelnut Salad with Quail's Eggs, share it now to your favourite social media channel…