Hello there,
I was very excited about this week's Great British 
bake off
, as the theme was patisserie. I expected beautiful gateaux, Opera cakes, Paris-Brest and macrons. I wanted decadence. I expected all-out indulgence. What we actually got was palmiers, savarin and fondant fancies.  Yes, yes, I know they are still all patisserie but I just felt a bit let down with the lack of unctuousness!
I laughed my way through most of the signature bake, as Mr Vohn and Miss A kept saying that the palmiers were just like my pinwheel appetisers. I had to explain to them that my pinwheels are in fact a type of palmier. Then they were immediately both shouting at the telly that my pinwheels are much nicer than all the contestants' palmiers!
I have to agree! In fact this is one recipe I urge you to make! Every person I have made these for has requested them again and again. They are that good! In fact, these biscuits are so good and I make them so often that I couldn't believe I hadn't blogged them before. I actually searched back through my own blog posts to check!
These pinwheel appetisers are a firm family favourite and are my go-to recipe to make for nibbles with drinks for special occasions. In fact, Christmas is declared not as good as the previous year if my pinwheels are missing! I have made these almost every Christmas morning for over 30 years! Boy that makes me feel old!
You must have been a child when you found the recipe, I hear you cry! Why, yes, yes I was.
When I serve these palmiers, I always like to tell my guests the story of where I originally got the recipe from – you will never believe the source of the recipe for these little gems. The children's show Blue Peter, of all places! I reckon I was about 10 years old, so it must have been an episode somewhere around 1983. I frantically wrote it down quickly (long before the days of a quick hop onto Google to find the recipe), struggling with the names of a cheese and ham I had never heard of.  My mother balked at the cost of the ingredients but was always keen to encourage me, so off we went to the city to find a specialist deli to buy Parmigiano Reggiano cheese and Parma ham. Isn't it amazing that they are now everyday items available in any supermarket!
These were probably the first thing that I cooked that had my dad's face completely lit up with joy. I had been cooking Sunday dinners for a couple of years by that age. However I always cooked recipes from family cookbooks so, although well received, everyone knew what to expect. This was the first recipe that I found independent of family and I was exited about it. The look on my dad's face when he tried these is what encouraged me to keep cooking and experimenting with new ideas and new ingredients. I urge you to make them!
Parmigiano and Parma ham Palmiers
320g puff pastry (at room temperature)
100g grated Cheddar cheese
50g grated Parmigiano Reggiano* cheese
90g Parma* ham
*I urge you to seek out proper Parmigiano Reggiano, rather than a generic parmesan, and to seek out proper Parma ham. The flavour is well worth the extra effort and you are keeping traditional foods alive.
Method
Roll out the puff pastry, on a floured work surface, until fairly thin.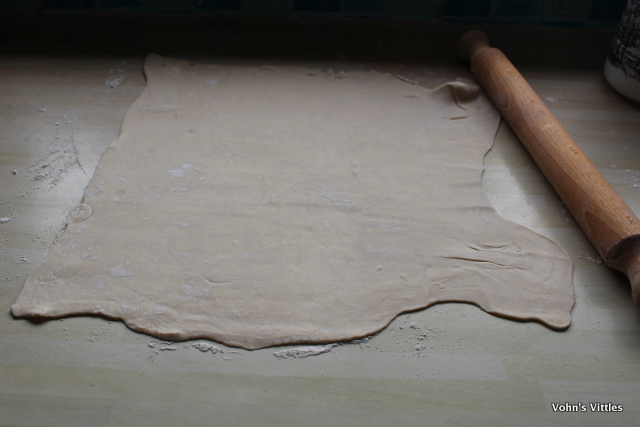 Sprinkle with cheddar cheese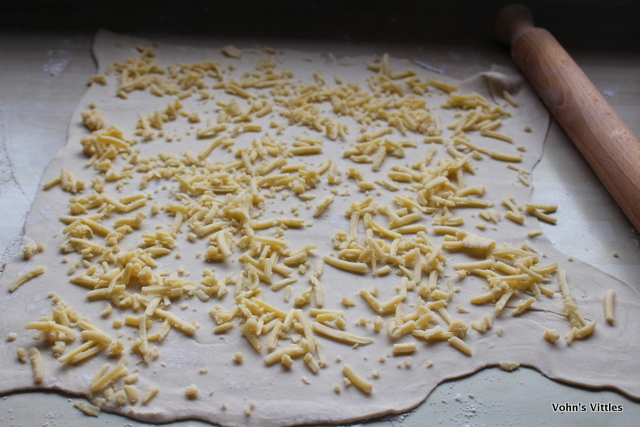 Fold it as shown…
(1) fold in half
(2) fold join on long edge in towards centre
(3) fold short edges in towards centre
(4) turn over so joins facing downwards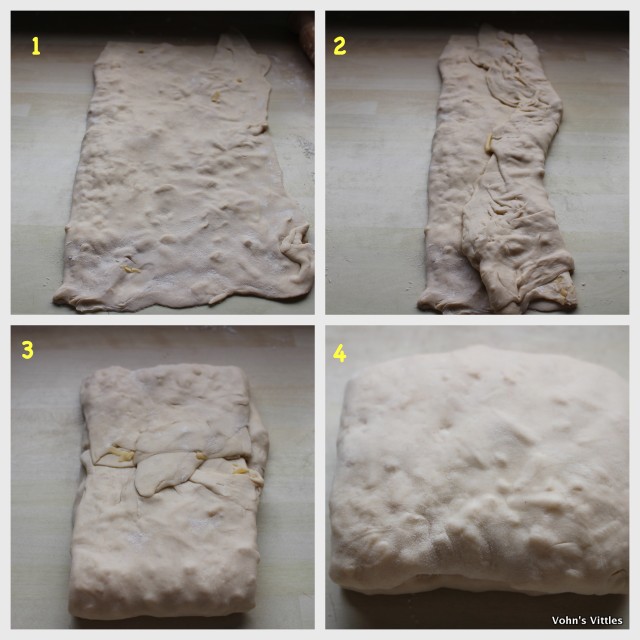 Roll out again, then sprinkle with parmesan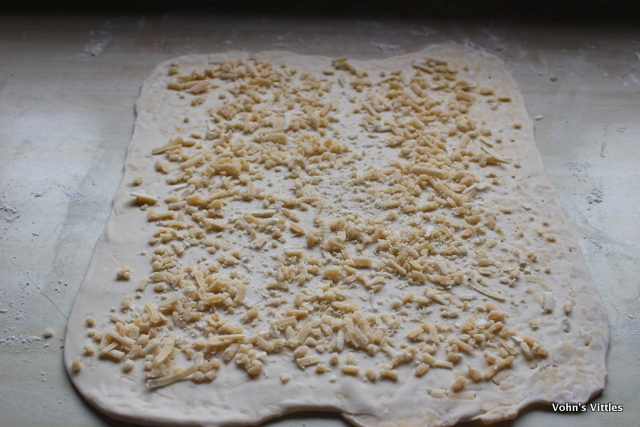 Fold up again as before, then roll again and lay the slices of Parma Ham on top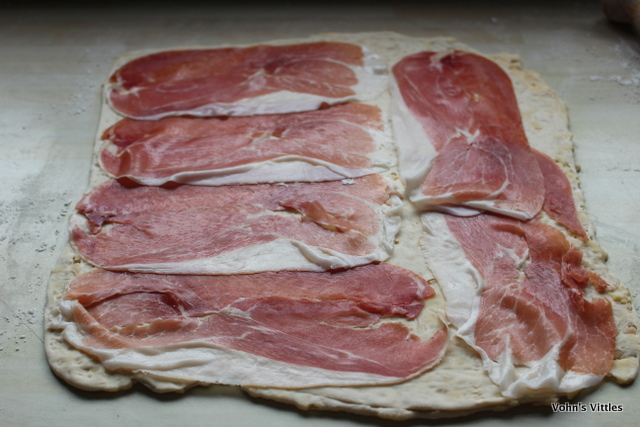 Next fold again to get palmier shape
(1) fold edges to middle and press down
(2) repeat
(3) fold in half and flatten/squeeze together into sausage shape
(4) seal the join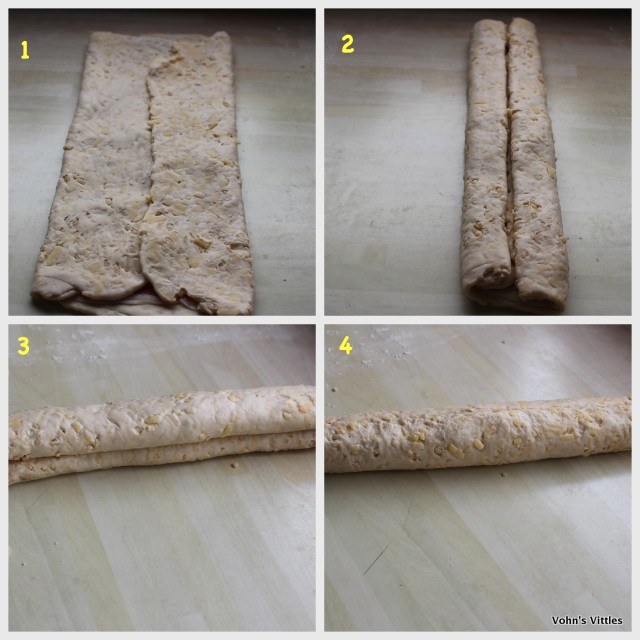 Now slice thinly with a sharp knife, place on a greased baking tray and bake at 200C for 10-15 minutes.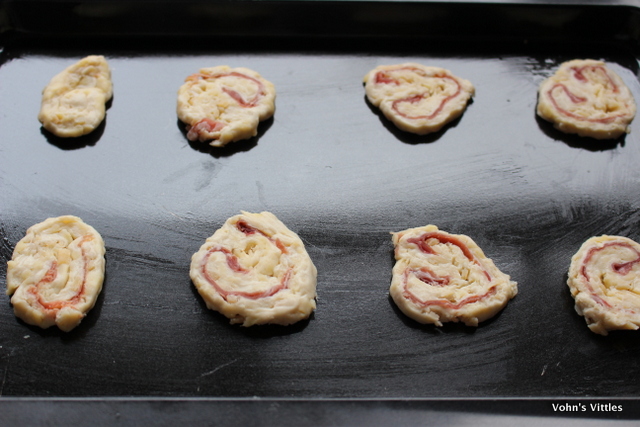 Remove from oven but leave on tray for a few minutes to crisp up, then remove to a wire rack to cool slightly.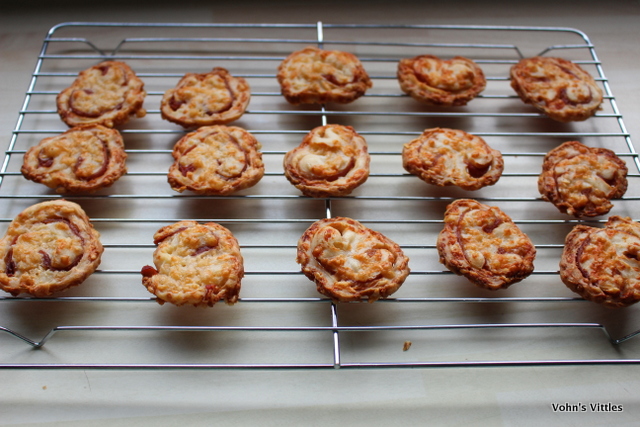 They are delicious served still warm, especially with a glass of chilled fizz on Christmas morning!
They don't have the definition Paul & Mary were looking for, with lots of layers, but I reckon this is what comes from using shop-bought, instead of making my own puff pastry. Speaking of which, does anyone know where to get puff pastry without additives?  The cleanest I have found is Tesco's own brand, which only has potassium sorbate as a preservative. The brand names I have checked have a whole host of chemicals in them. Even my local butchers & bakers have E numbers in theirs!  I'd love to find a clean version of puff pasty without expending the energy making my own!
These also freeze well wrapped in cling film. You can freeze the whole uncooked roll and slice the biscuits off as needed and cook for an extra minute or so. However, I find it too tough to slice from frozen myself, due to weak wrists, so I freeze in sections of about 8 biscuits. When I want to bake them I defrost them before slicing and baking as usual. This also means they can be made well in advance of the festive season and defrosted on Christmas morning. I am never sure until the last minute how many people I will be cooking for on Christmas Day, so this method also allows me to make as many trays of palmiers as required.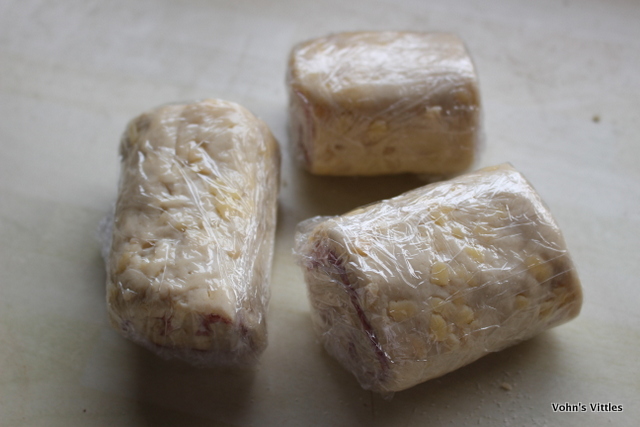 The shaping also lends itself to heart-shapes and I have made them a couple of times for Mr Vohn for Valentines Day by emphasising the natural heart.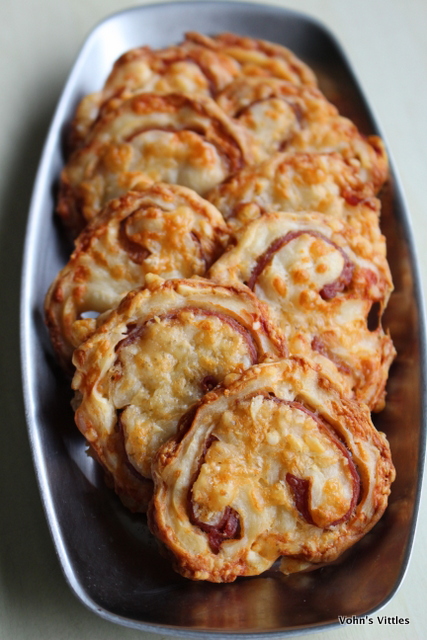 Again I am entering my bake into Mummy Mishaps Great Blogger Bake Off blogging challenge. Do hop on the link to see what everyone else has been baking!
I urge you to make these! Calling these palmiers always seemed a bit pretentious to me, so they have always been known as Vohn's Pinwheels. Now my family have a clue what palmiers are, they have been renamed "Parmesan and Parma ham palmiers" – try saying that after a few glasses of champagne!
Vohn
x
If you liked this recipe, please subscribe below and you will get all my new recipes straight to your inbox.  Easy!