Hello dear reader,
The blog has been very quiet of late as I have been working on new project, which I'm very excited about!
I have been setting up a community food group in my home town of Inverkeithing.
Our goals are to create a strong community of interest around food by growing, swapping, cooking and eating together.
So far we have had two very successful community lunches where we served a three-course menu of local,  seasonal food cooked-from-scratch.
Cooking for 50 people is of course very different to cooking for my usual three! The most I have cooked for before has been 15 at Christmas. Initially I was a little daunted but my great new friend P, a German girl who has made her home in Inverkeithing, is completely unfazed by such numbers and has given me the confidence to just go for it.
We are keen to promote local food and when I found Scottish-grown barley at our local farm shop, I knew I wanted to create a dish highlighting it. It was difficult to know what to make as the weather was alternating between blazing sunshine and cold grey days. I debated over a hearty stew or a lighter salad and, in the end, I decided on a hearty salad! We served it at room-temperature, which worked perfectly after the hot peppery soup made from locally-foraged wild garlic.
In fact my barley recipe went down so well that it has been requested by many people who dined with us! Not bad at all for my first recipe developed for bulk-cooking!
Mackerel and Barley Salad – recipe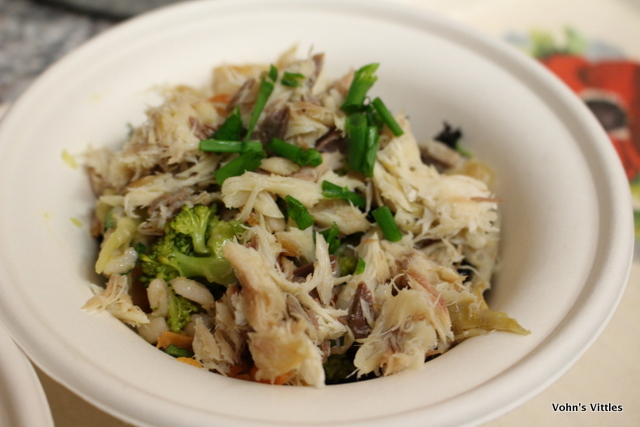 In order to scale up or down as required, I am listing the salad ingredients per person and the vinaigrette ingredients based on the weight of barley being used. Once you know how many people you are cooking for, you can calculate the weight of barley (i.e. 30g x number of people).
Barley Salad – per person
– 1/2 smoked mackerel fillet
– 30g pearl barley
– handful of seasonal vegetables
– ½ tbsp fresh herbs
Vinaigrette – per 150g barley
– 3 tbsp oil
– 2 tbsp raspberry vinegar
– black pepper & sugar (to personal taste)
As I was cooking for so many, I didn't have time to stop to take my usual step-by-step photos so here goes with lots of text!
1) Rinse the barley, place in a large pot and take a note of the level it comes up to. Add enough hot water to bring up to twice this level. Bring to boil, then reduce heat and simmer for 40 minutes, stirring occasionally. Turn off heat, cover and leave to cool and absorb any remaining liquid.
2) Make the vinaigrette by simply measuring the ingredients into a jar and shaking to mix. The recipe is 3 parts oil to 2 parts vinegar, so is easy to make in bulk. I simply used three cups of oil and two cups of vinegar poured into a clean jam jar, then lid on and vigorous shaking to mix. Then add pepper and sugar, taste and adjust to preferred seasoning and sweetness. I made three batches in this way and it only took me about five minutes!
3) Place the cold barley in a large bowl, add the vinaigrette and toss to combine. Cover, place in fridge and leave overnight to infuse.
4) Prep the veg : how you do this will be dependant on what seasonal veg you can source locally. I went for broccoli and carrots.
4a) Use the timings and peelings to make a quick vegetable stock (for me this was the trimmed base of the broccoli and the carrot peelings and tops). Fry in a little oil for a couple of minutes, then add salt and enough water to cover and simmer until mushy. Strain and add to vegetables as they are cooking.
4b) Separate any firmer veg from softer veg (for me the only soft veg was the broccoli florets which I separated from the stalks). Grate the firmer veg (for me this was the broccoli stalks and carrots), fry gently in a little oil and then add enough water and stock to cover. Cook for about 15 minutes until almost tender, then add the softer veg (for me this was the broccoli florets) and cook for another few minutes – just long enough to remove the rawness but still keep a little bite/crunch. Strain and leave to cool.
5) Prep the mackerel by removing skin, then boning and flaking. We completely underestimated how time-consuming this would be and our poor volunteer R spent most of the morning on it (thank you so much R!!!). Perhaps ask your fishmonger to kindly do this stage!
6) Prep the herbs by chopping finely. I used mint, chives and pea shoots.
7) Build the salad by combining the infused barley with the vegetables and herbs. Serve in bowls, top with mackerel and sprinkle with chives.
Enjoy!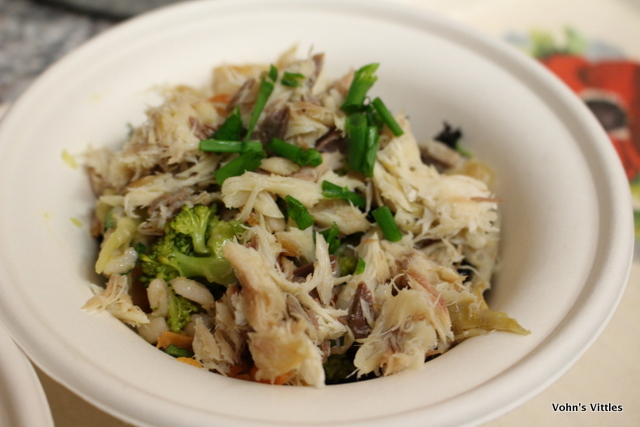 Local ingredient sourcing
One of the key aims of Inverkeithing Food Group is to increase awareness of our great local produce. Here is a list of the ingredients I used with information on their sourcing…
Smoked mackerel fillets
– fished in waters around north of Scotland
– landed and smoked in Peterhead
– bought from HS Murrays Fishmonger, Inverkeithing
Barley
– Scottish-grown pearl barley
– packaged by Bramik Foods Ltd, Broxburn
– bought from Hopetoun Farm Shop, South Queensferry
Seasonal vegetables
– grown by Pittormie Fruit Farm, N.E. Fife
– half donated by Craigies Farm Shop, South Queensferry & half bought from Lynn's Fruit and Veg, Burntisland
Seasonal herbs
– mint & chives grown by Craigies Farm & donated to IFG
– organic pea shoots grown by Vohn's Vittles & donated to IFG
Scottish Cold-pressed Rapeseed Oil
– grown on McGregor Farm, Coldstream & cold-pressed by Borderfields, Nottingham
Raspberry Vinegar
– raspberries grown on Craigies Farm, vinegar made in Craigies Jam Kitchen, South Queensferry
– donated by Craigies Farm Shop
Organic black pepper & Fair-trade sugar
– bought at local Scotmid
I was really chuffed to be able to serve 50 people a delicious main course, where the only imported ingredients were a small amount of organic pepper and fair-trade sugar!
Vohn
x