Hello dear reader,
The asparagus season here in the UK is short and sweet. Of course, we can now buy imported asparagus year-round in the supermarket but why would one want to when the taste is so inferior, after being flown halfway round the world? Much better to savour our couple of months of delicious local asparagus and then wait for the season to come around again next year, excitement building as the news spreads that local asparagus is on sale at our farm shops and markets.
Asparagus is delicious lightly cooked in salads and even seared on the barbecue. It is very quick to cook and so I've developed another of my 10-minute lunches, pairing the asparagus with delicious quail's eggs, which are also quick to cook…
Sautéed garlic asparagus with quail's eggs – recipe
– 1 bunch asparagus
– 1 tbsp oil
– 2 cloves garlic, crushed
– 1 tbsp freshly squeezed lime juice (optional)
– 3 quails eggs
1) Trim the woody ends from the asparagus and discard.
2) Heat the oil in a frying pan over a medium heat and sautée the asparagus for about four minutes. Add the crushed garlic and cook for another minute. Add the lime juice – this is optional but it does give a nice zing.
3) Poach the quail's eggs while the asparagus is cooking.
Opening quail's eggs can be fiddly. The easiest way is to make a small slit in the shell with a small knife and then open up the shell and gently drop the egg into a small dish or ramekin. Once all the quail's eggs are open, drop them gently one by one into hot, not quite boiling, water. Poach for one minute for runny yolks and a little longer if you like them firmer. Lift out with a slotted spoon.
4) Serve the asparagus with the cooking juices drizzled over and top with the poached quail's eggs.
Enjoy your quick and delicious seasonal lunch!
Quail's eggs are so tasty and quick that they also feature in another of my 10-minute lunches, Green Bean and Hazelnut Salad with Quail's Eggs.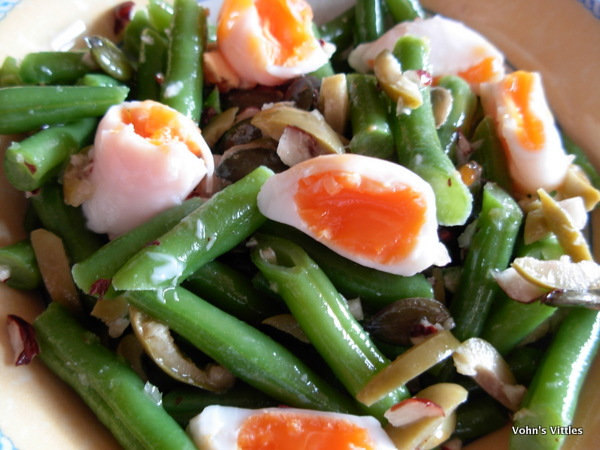 Enjoy!
Vohn
x