Hello Dear Reader,
Did you see my article paying homage to Scotland's First Family, the Broon's?
One of the independent Broon's ranges that has sprung up recently is Maw Broon's Kitchen Sauces.  They specialise in sauces inspired by Maw Broon's home cooking.  These sauces are prepared in small batches in Edinburgh and I was delighted to be offered a bottle each of their Tomato Sauce and Broon Sauce to try.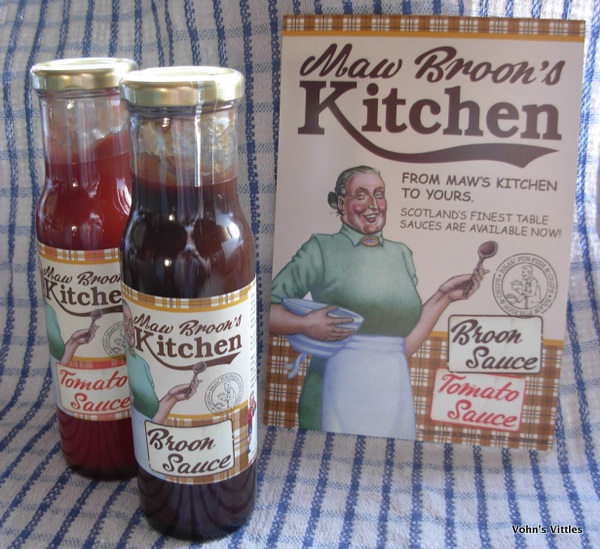 The first thing I always check when trying new food is the ingredients list and I am delighted to see there are no artificial colourings, flavourings or preservatives.
The tomato sauce is the best commercial tomato sauce I've ever tasted – fresh and tomato-ey but with a rich depth of flavour.  My whole life I have stuck to one leading brand of ketchup and never found anything to rival it – now it has lost its place in my kitchen!  Mr Vohn loves it too, although he did lament that it is not called "Red Sauce" in true Broons fashion.
The bottle shape is excellent too, with a wider neck than other brands so the sauce pours out easily.
I leave Mr Vohn to taste the Broon sauce, as it is not something I have ever liked.  His verdict of "oh that's braw" tempts me in and I try it too.  Wow – a brown sauce I like – brilliant!  It is rich and fruity and sweet and tangy.
What did we taste the sauces with?  Well we liked them so much we have had them on chips, fish pie, burgers, pasties, omelettes, Scotch pies and many other dishes.  I got very over-protective of my tomato sauce when the bottle was nearing its end! When Mr Vohn's broon sauce was almost finished, he added a little vinegar to make "Edinburgh chippy sauce" to stretch it out a little longer!
If you want to taste these braw delights for yourself, then check out Maw Broon's Sauces website to order direct.  They have more table sauces and a range of cooking sauces coming soon too!
Vohn
x
P.S. Thanks Maw Broon's Kitchen for giving me a bottle of each of your Tomato and Broon sauces to try!  In case you hadn't guessed already – we loved them!