Happy New Year!
Today is the lunar new year, more commonly known as Chinese New Year.
Last year I developed a recipe hack of my favourite dish from a Chinese takeaway, Salted Chilli Crispy Beef.
I ended that blog post with a reference to fortune cookies – but did you know that they aren't even Chinese?! In fact you'd be unlikely to find a fortune cookie in a restaurant in China at all! They were most likely invented in the USA but a mountain of them will be eaten tonight all around the world!
I love the idea of fortune cookies but the reality is often dry, flavourless, limp and uninspiring.  Not so for Cracking Cookies, a range of gourmet fortune cookies made right here in Scotland, which I discovered last year! I first found them at the Foodies Festival in Edinburgh where I got all gushy about what a genius idea they are and chatted for ages with lovely owners Michelle and Kevin. I spotted Michelle again at my favourite festival Eat, Drink, Discover Scotland but never got a chance to chat as she always had a queue – it was wonderful to see her wares so easily impressing!
The first thing that had caught my eye was the statement of "100% natural" on their banner.
I frequently read that on labels but when I investigate there is usually something dubious. Investigating Cracking Cookies claim of 100% natural just brought more and more delightful facts. There are no artificial colourings, no artificial flavourings, no preservatives and each cookie is handmade using all natural ingredients.
Michelle is able to proudly state that her artisan cookies are 100% natural, individually handmade and always taste of what they are supposed to.
So, is she right? Michelle kindly gifted me one of her strawberry fortune cookies to try.
Once the wrapper is off I can instantly smell the strawberry!
Michelle named her company "Cracking Cookies" after the signature crack when a fortune cookie is opened. These do indeed have that satisfying snap!
The fortune cookie is crunchy and crisp, a joy to munch on. The flavour is rich in natural strawberry with a gentle underlying hint of mint. Delicious! These are fortune cookies to savour and enjoy!
For such a young company, the range of flavours is impressive!
Their favourite flavour combinations make it onto their list of signature Fortunes.
You can buy individual flavours of your choice
or mixed bags or gift boxes.
So, the flavour and texture are winners – I would buy these simply to eat – but what about those naff fortunes hidden inside though? No such thing as naff where Cracking Cookies are concerned as they have a varied range of themes you can choose from, or you can even have your own personalised messages.
When I mention to Michelle what a great idea they would be for wedding favours, she is delighted to tell me that has been something they have already been doing and how much fun it is to see the ideas that people come up with, for example one couple included a message challenging a guest to
"Start a Mexican Wave during the best man's speech!"
I can just imagine the hilarity that would ensue! Cracking Cookies have also been used as ice-breakers at corporate events and conversation-starters at dinner parties. My favourite idea is a bunch of challenges for a hen or stag party!
Further expanding the fun is the range of mis-fortune cookies, called "Fun Unfortunates" with slogans like
"Your winning smile will get you nowhere"
or
"You will not pass Go, you will not collect £200!"
I instantly have ideas of a monopoly party with random fortune cookie mis-fortunes thrown in to change up the game!
The free personalisation service makes them infinitely suitable for special individual messages, like congratulations on exams passed, babies born, anniversaries or even marriage proposals! Their single personalised fortune cookie is such a cute idea!
I love everything about Cracking Cookies – such a fun but unique idea. One of those genius things that seem so simple and obvious that they make you wonder why no-one has done this before!
Later in the day I watched a demo by top Edinburgh chef Mark Greenaway. He was joined onstage by the wonderful Jaqui O'Donnell, who quizzed him on which producers he'd particularly enjoyed at the Foodies Festival this year. He specifically mentioned Cracking Cookies, the brilliant new fortune cookies – to which Jacs responded "They're so good" and Mark agreed "Amazing"!
High praise indeed.
As for my own fortune, it made me laugh because its cheeky prediction is so absolutely and completely accurate!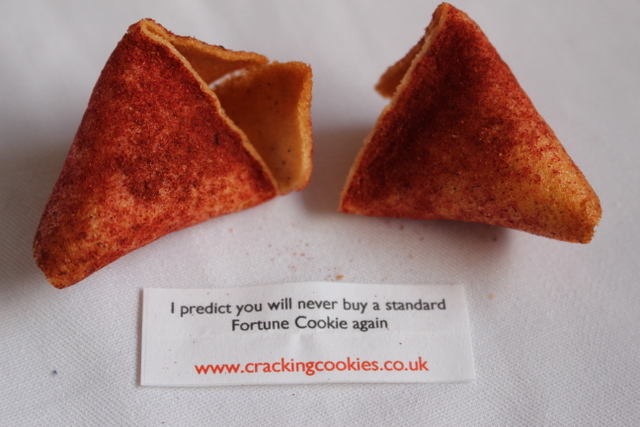 Darn straight!
You can buy these unique artisan delights online at Cracking Cookies, or at various farmers markets around Scotland. Try them and…
 Vohn
x