Hello dear reader,
I've been meaning to tell you about an exciting pilot project that's been running in Fife for the past few months. The Fife Food Co-op has been set up by Fife Diet to help households more easily source their food in an ethical and sustainable way. It is also a fantastic way to support small-scale food producers. In essence it is all about regaining control of our own food system!
My orders from Fife Food Co-op…
Here is a run down of what I have bought over the past few months…
I've been particularly excited about the local fruit and veg on offer. To be expected in Scotland is strawberries and raspberries. These from Pittormie Fruit Farm are among the tastiest and juiciest I've ever had.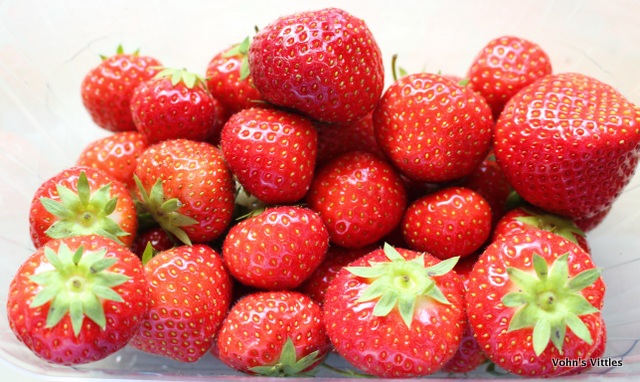 Redcurrants and whitecurrants are fruit that I have only ever had from friends' gardens. I'm not even sure where I could buy them if not from the Fife Food Co-op. Sure I could drive up to Pittormie Fruit Farm and it's a lovely day out but that's a round trip of over 60 miles for me, so not a sustainable way to buy my fruit. Fife Food Co-op is bringing it to within a few miles of me and my neighbours!
Then there's fruit that I've never even tasted before, like red gooseberries – delicious.
Even more unusual loganberries and tayberries!
I've been aware of tayberries, a cross between a blackberry and raspberry, as they are used in a locally-produced fruit beer Roisin but I've never seen them anywhere to buy!
Some of the produce on offer has been grown by students on the New Farmers Programme, run by Nourish Scotland, which trains people to grow food on small-scale farms to sell locally. So, not only am I buying locally-grown produce, I am supporting the next generation of local growers. I love this idea.
These beautiful edible flowers were grown by students on placement in Fife.
From the same program – baby spinach and Swiss chard.
They also grew some more unusual produce, like these pretty beans. They were so young and fresh that I just chopped them up and used them in a light stir fry. No need to even spend time podding these beauties!
Then there was this wonderful 'Uchiki Kuri' squash. It may have been harvested a little early – it should be orange – still the flesh inside was vibrant orange and delicious. So delicious in fact, that I've added it to my list of veg that I want to grow myself!
The following month I ordered squash again hoping for another "Uchiki Kuri' but, of course, the season had moved on and I got these three super-cute little acorn squashes. Fabulous stuffed and roasted whole.
Other local produce besides fruit and veg is available.  This locally produced honey is made about 10 miles from me but is exclusively available to Fife Food Co-op!
You can also buy meat from Hugh Grierson Organic, wild Scottish venison from Brick House Venison, cheese from The St Andrews Farmhouse Cheese Company and organic dairy from Graham's Family Dairy. I haven't bought these as I already source my meat and dairy as locally as possible, and this was the one area where I found the Food Co-op to be a little out of my budget.
There is also a whole host of store-cupboard essentials available. I snapped up these porridge oats, as they were really cheap and are grown right here in Fife!
Some things do come from a little further afield but Fife Food Co-op have done all the leg work for me in checking that they are ethically and sustainably produced and are never air-freighted in to the UK.  A range of organic dried goods comes from Greencity Wholefoods, a workers collective based in Glasgow.
The dried peas and beans are sourced directly from Hodmedod, a fantastic company who source all their produce from British farms and who have an increasing range of organic items. Hodmedods are also keen to seek out lesser-known and forgotten pulses, like these Black badger peas which I'd never heard of but which have been grown in Britain for over 500 years! They are similar to chick peas but with a richer nuttier flavour!
How to place an order with Fife Food Co-op…
The ordering process for the Fife Food Co-op is simple: you order online by Tuesday at midnight, then collect your fantastic array of goodies from a pop-up on the Friday or Saturday, depending on which collection point you have selected.
If there is something in particular you want, then you can even email to request it, so you need not miss out on your favourite foods!
Special seasonal offerings are also available. For example, in August they offered the option to buy preserving ingredients (vinegar, sugar, salt) in bulk for preserving the season's bountiful supply to use over the winter months! In December they have clootie dumpling, a Scottish speciality which is a traditional alternative to Christmas pudding, handmade by new local artisan cake company The Auchtermuchty Cake Company.
Extras galore!
Adding to the excitement of collecting your order is that Fife Food Co-op always have a little something extra available on the day.
The freshly baked sourdough bread range from Woodlea Stables has been so popular that I have never yet managed to grab a loaf – all sold out before I got there! Early bird and all that!
Other extras that I have managed to grab are…
More local veg – turnips, broad beans and peas – picked that very morning – can't get much fresher!
Apples from the Newburgh Orchards Group, who are preserving the ancient fruit varieties which have been grown in North Fife for centuries. I try to get to their fantastic market days every year but Fife Food Co-op saved me lots of petrol money, not to mention food miles, by cutting out my round trip of over 60 miles! Hurrah the apples are coming to me now!
There was also locally grown organic garlic. A delicious addition to my kitchen as I didn't get around to growing garlic this year.
A highlight a couple of months ago was the sourdough starter brought in by Fife Diet member Mark, for anyone to take a few spoonfuls away with them. Mark was also on hand to discuss his starter and how he makes his bread. Where else could you get free produce, advice & recipes with your shopping??
I've been wanting a sourdough starter for a while, so this was very exciting for me. Sure I could have made my own, but it is much more fun to get one with a little history behind it – Mark's starter has been on the go for five years! Here's my little baby pot which I have been feeding and keeping alive. I love sourdough but find many shop-bought ones too strong; now I can play around with the sourness levels of my dough to achieve my perfect loaf!
Christmas Spice workshop with Vohn's Vittles…
So what are the plans for this month's extra I hear you ask?
It's ME!
Yes, I'll be at each collection point this weekend helping you make your own jars of Ras-el Hanout or, if you want to get in the Christmas spirit, we'll make a homemade spice pouch for mulled wine, or mulled ale, or mulled apple juice. We'll be roasting and grinding the spices ourselves and you can even get your creative side going and decorate them to give away as gifts. On Friday I'll be in Auchtermuchty from 4-6pm, and on Saturday I'll be in Dunfermline 10am – noon and Kirkcaldy 1.30 – 3.30pm.
Do pop in for some spicy fun if you're in the area!
Fife Food Co-op plans for the future…
The Fife Food Co-op pilot project is now coming to an end, so if you like the sound of all this beautiful and tasty food, get your order in quick!
I do hope there has been enough support that it can turn into a long-term venture, to help locals and visitors to continue the Fife Diet ethos of sourcing food ethically, sustainably and as locally as possible.
Vohn
x