Hello dear reader,
I was reading a food magazine last night and there was an article on great British desserts.  There were the obvious contenders of crumbles, puddings, scones, fools and trifles but also listed was Pavlova.
I knew that Pavlova had been named for the wonderful Russian classical ballerina Anna Pavlova.
I believed it originated in Australia and I can certainly remember the lovely John Torode once exclaiming on a cookery show "you're making Pavlova for an Australian – it'd better be good"!
A bit of further research has told me that it might actually have been first created in New Zealand and that there is much debate between the two countries as to which it "belongs to".
So, I was correct in thinking it originated from the other side of the world.  It amused me to see it being listed as one of our great British desserts.  However that is one of the joyful things about British cuisine, that we love to embrace cuisines of other countries, so much so that some dishes come to be thought of as "our own".  Certainly I was brought up having Pavlova as a regular dessert.  As soon as strawberries were in season, the first thought was Pavlova.  My mum's recipe is famed for how crispy the outside is and how soft and marshmallowy the inside.  I don't know how it equates to the original or traditional recipe but I've certainly never tasted a finer Pavlova.
So mum's recipe is…
Preheat oven to moderate temperature (180 degrees C, 350 degrees F, gas mark 4). Grease a baking tin, add greaseproof paper, grease it & then wet it & shake off the excess water. Beat 3 egg whites until really stiff. Add 1 teaspoon vanilla essence, 1 teaspoon cornflour and 1 small teaspoon white vinegar. Continue beating and add 6oz caster sugar, one spoonful at a time. Spoon onto the baking sheet and smooth into a circle with a flattish top. Put in oven, immediately turn the temperature down to almost cool (150 degrees C, 300 degrees F, gas mark 2) & bake for an hour. Then switch the oven off & allow to cool in the oven.
At this stage it can be stored in an airtight container for up to a week. At least one hour before serving, top with whipped cream, not quite to the edge.  This helps the inside to become more soft and mallowy and the outside to stay crisp. Decorate as desired.
As I said, we usually have pavlova as soon as strawberries are in season but I couldn't wait this year and decided to make it for my husband for our wedding anniversary a couple of weeks ago.  I wanted to make it look pretty and spring-like, so used my crystallised primroses to decorate it.  Here it is…
My husband is the artistic one in the family and he said it needed another circle of flowers around the outside, so here it is again…
My husband thought it looked much better but I'm a less-is-more sort of girl, so I actually prefer the first version.  What do you think?
Since edible flowers are classed as herbs, I'm entering this into the Herbs on Saturday blogging challenge hosted by the lovely Karen over at Lavender and Lovage.
I'd love to hear from any Aussie/Kiwi readers whether anything is different in your traditional recipe or method.  What makes the perfect Pavlova for you?  Does the ownership debate still continue between New Zealand and Australia and what do you think of "your" dessert being adopted by other nations as their own?
Vohn
x
Update: I am entering this into Chris's Foodie World Cup bloggers challenge, as Australia are playing today (18th June 2014).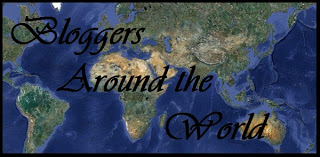 I am also entering this into the Let's Cook challenge is run Nanya over at Simply.Food, as her theme this month is Father's Day and this is my dad's favourite pud!
.