Hello dear reader,
Have you heard of a couple of English guys called The Hairy Bikers?
The Hairy Bikers, aka Si King and Dave Myers, are two biker friends who love to travel around on their motorbikes and cook great food together. They are really fun down-to-earth cooks who have had several series on the BBC following their tours around various places where they meet local people and collect wonderful local recipes – kind of half cookery show, half travelogue.
One such series The Hairy Bikers Bakeathon saw them travelling across Europe baking lots of delicious local bakes in each country they visited. This is where I first found out about Bierocks, a German meat and cabbage bun that is a great snack for eating with, yes you guessed it, a beer or several! I have since made these on several occasions and Mr Vohn likes them so much that he has requested them for his birthday dinner this August.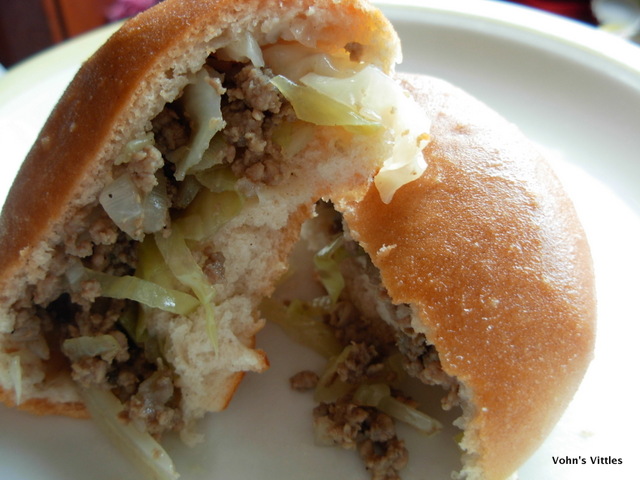 A meat and cabbage bun maybe doesn't sound the most appealing thing but these are delicious with a delicate blend of subtle spicing. My daughter and her boyfriend didn't like the sound of them at all and then proceeded to scoff several each, including cold the next day for breakfast!
You can find the original recipe on the BBC website. I have adapted the spicing slightly to our preference and here is my step-by-step photo tutorial to accompany it…
Make the dough
Stir 1 tbsp sugar into ½ pint of warm water and sprinkle over ¼ oz sachet of fast-action dried yeast.

Leave for 10 minutes until the yeast activates and a light foam forms on the surface.
Mix 1 tsp salt with 1lb 2oz strong white flour
Add the yeast mixture to the flour, along with 1 tbsp sunflower oil. Mix together to form a dough.
Knead by hand for 10 minutes until smooth and elastic, or in a mixer with a dough hook for five minutes.
Place in an oiled bowl, cover with cling film and leave in a warm place to rise for about 45 minutes.
Make the filling
While the dough is rising, make the filling…
Shred 1 small white cabbage and finely chop 2 onions.
Fry 1 lb 2 oz beef mince (ground beef) with the onions in 2 tbsp oil over a medium heat until lightly browned.
Add the shredded cabbage.
Add the spices…
This is where you can adapt to taste – I use ½ tsp ginger, ½ tsp cinnamon, 1 tsp coriander and ½ tsp cayenne
Add the seasoning…1 tbsp salt, ½ tbsp ground white pepper and 1 tsp freshly ground black pepper.
Fry for 3-4 minutes, then add 3½ fl oz water, cover the pan and cook over a low heat for 5 minutes.  Remove from the heat, stir and leave to cool until the dough is ready.
Make the Bierocks
Remove the risen dough from the bowl
Knock it back, knead lightly and divide into 20 equal portions.
Prepare two large baking sheets covered with greaseproof paper.
Take one dough ball and roll with a rolling pin to a circle about 12″ (30cm) in diameter
Add 1-2 tablespoons of filling in the middle
Brush the border with water and bring the edges together to seal
Place on a baking tray seam-side down. Repeat with the remaining dough and filling and then leave in a warm place for 20 minutes until risen again.
Bake at 350ºF (180ºC, Gas Mark 4) until golden brown
Brush with melted butter
Leave to cool slightly, if you can wait that long! Devour!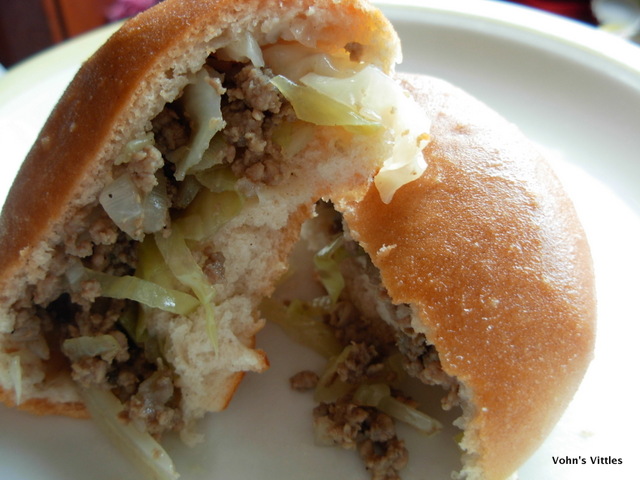 Bierocks are full of flavour and subtle spicing, crispy bread on the outside and warm scrumptious filling on the inside.
 Enjoy!
Vohn
x
P.S. I am entering this into Chris's Foodie World Cup bloggers challenge, as Germany are playing today (21st June 2014).