Hello Dear reader,
In my latest instalment in my series of Doctor Who recipes, comes these scary snowmen cookies based on the Doctor Who Christmas special from Earth Year 2012.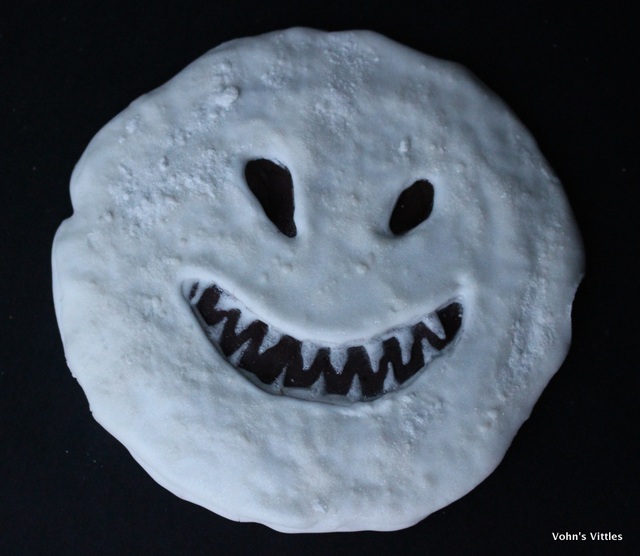 Do you remember it? The snow is sentient and is feeding off people's fears to build itself into these frightening snowmen!
Scary snowmen were the first thing I thought of when Katie from The Perfect Brownie challenged The Time Lord Chefs to come up with Christmas-themed Doctor Who recipes! Here's how I made them…
I used my favourite simple spiced cookie recipe.
Spiced cookie recipe
250g plain flour
½ tsp bicarbonate of soda
1 tsp ground allspice
150g butter, cut into cubes
220g soft brown sugar
1-2 eggs, beaten
1) Sift flour, bicarbonate of soda and allspice together. Rub in butter until resembles breadcrumbs. Stir in sugar. Add egg a little at a time until clumps together as a dough. Wrap in cling film and refrigerate for half an hour.
2) Roll dough on a floured surface to about 2mm thick. Cut into circles using a cookie cutter or upturned glass & place on a greased baking tray. Pop into freezer for 15 minutes. Meanwhile preheat the oven.
3) Bake at 170ºC for 5 minutes, then turn tray and bake for a further 3-4 minutes until golden. Remove from oven, leave on tray for a few minutes to harden, then move to a cooling rack to cool.
Scary Snowman Decoration – step by step
Once cold, I decorated my cookies with melted chocolate, Royal Icing and edible silver dust. I used a high cocoa chocolate to get the dark eyes and mouth. I didn't bother tempering it properly as I wanted quite a dull background.
1) Melt the chocolate in 20 second bursts in a bowl in the microwave. Drop a teaspoon in the middle of a biscuit.
2) Spread out with the back of a spoon in circular movements until get near to the edge
3) Leave to harden.
4) Make the Royal Icing by whisking an egg white until firm peak stage, then whisk in icing sugar until achieve the consistency of toothpaste. Use the icing to pipe the outlines for the eyes and mouth. It already looks fairly alarming!
5) Leave to harden and then flood the rest of the biscuit with more Royal Icing. If your icing is too thick, thin it down with lemon juice. If too runny, thicken with more icing sugar. Then place dots along the gum line and use a cocktail stick to drag them out into pointed teeth.
6) Leave to harden and then pipe another outline around the eyes and mouth.
7) Leave to harden and then flood the cookie again with runnier icing.
8) Next I tried two methods to achieve a rougher snowy look…
Firstly I tried letting the icing dry slightly and then using the back of a spoon to rough it up a little.
Second version I tried sprinkling icing sugar over the cookie while the icing was still soft and leaving to harden before brushing off the excess icing sugar.
I quite like both effects!
9) Then I got in there with some edible silver dust to add the icy looking details to the teeth and gums.
Here's a family of scary snowmen!
Do you feel it? Winter is coming. Winter is coming!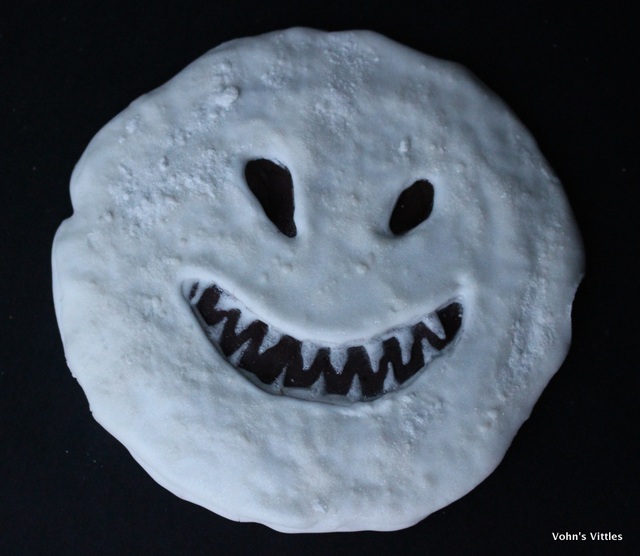 Vohn
x
P.S. I am entering my Scary Snowmen cookies into Katie's Time Lord Chef event.