Happy St Patrick's Day, dear reader!
I'm sure you know that St Patrick is the Patron Saint of Ireland. In the 5th Century he travelled from Britain to Ireland as a Christian missionary. He spread his message far and wide, becoming known as the Apostle of Ireland.
I am making a trip home to Northern Ireland today to see my parents and something that will always remind me of them and of home is Gaelic Coffee, commonly known as Irish Coffee.
When I was growing up Sunday afternoons were sacrosanct as our family day.  Each of us would take turn to cook a big Sunday Dinner, which we ate at lunchtime, and the afternoon's activity was chosen by whoever cooked the meal.  Sometimes this would be a walk along the beach, or looking at local gardens, but most often it would be family board games, where the atmosphere was competitive in a very friendly way.  This was (and still is) the one day of the week when my parents treated themselves to "proper coffee" made with ground coffee beans and they would often finish the afternoon with a Gaelic coffee.
I remember looking forward to the day when I would be old enough to be allowed one and when that day finally dawned – yeuchh – I hated it!  Nowadays my more-refined palate occasionally enjoys a wee nip of whiskey and anytime I make a Gaelic Coffee, I raise my glass to my parents.  
Here's our traditional family way of making this most special of coffees…
Gaelic, or Irish, Coffee
– Freshly brewed strong coffee
– Nip of Irish whiskey
– Sugar (optional)
– Lightly whipped cream
1) First of all whip the cream.  The consistency of this is the secret to a perfect Gaelic coffee.  It needs to be thick enough to hold a gentle peak but still loose enough to drip easily from a spoon.
2) Warm the glasses with hot water.  Make sure you put a metal spoon in the glass before pouring in hot liquid, otherwise the glass may crack.
3) If you like super-hot coffee, then gently warm your whiskey – my dad uses a little egg poaching pan for this but I just use cold whiskey.  Empty the hot water out of your glasses, then add a nip of whiskey to each and top up with coffee, leaving about 1½ cm free at the top of the glass.  Now is also the time to stir in sugar if you want it.
4) Now add the cream.  You need to float the cream on top of the coffee, so it is a separate layer.  The easiest way to do this is to hold a teaspoon over the glass and pour a spoonful of cream over the back of the teaspoon so it slides gently down on top of the coffee.  This is why the consistency of the whipping is so important.
A perfect Gaelic coffee will have two completely separate layers, with no merging of cream into coffee.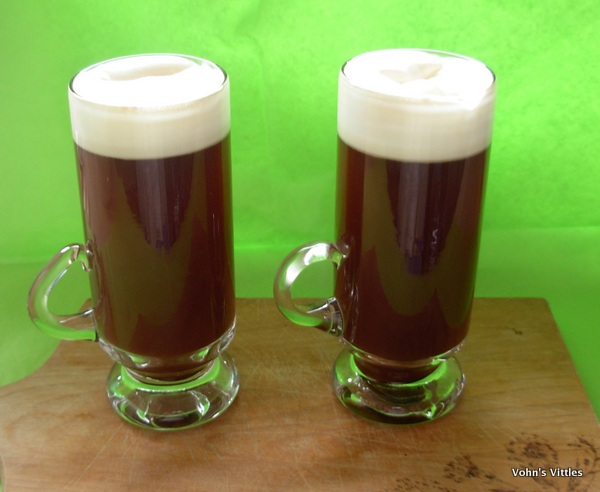 If you are not a fan of whiskey, then substitute your favourite spirit or liqueur.  I am particularly fond of Tia Maria, instead of whiskey, which makes it a Calypso Coffee.  Not very Irish but very tasty indeed!
So tell me dear reader, will you be celebrating St Patrick's Day?  Will you be decked in a sea of green, or do you prefer something a little more understated?
Vohn
x