Hello dear reader,
I have been working on a recipe project and I am excited that I am now allowed to tell you about it! Only 30 food bloggers were selected to work on this project so I am extremely chuffed and honoured that my recipe-creating skills have been noticed by someone!
The dating website Uniform Dating specialises in helping people who work in uniform to find dates and relationships. This is particularly to help those who work unusual shift patterns, or away on tour, and therefore can find it difficult to meet people. They have recently partnered with Michelin-starred chef Michael Caines in order to create a recipe App for their members called "Uniform Foodies" and this app is being launched today (13th June 2014).  You can download the Uniform Foodies App from the Apple Store and use it to find recipes or even upload your own. For more info, check out the Uniform Foodies twitter feed @UniformFoodies.
Michael's brief was to create 15 affordable, healthy, hearty and tasty recipes.  Then Uniform Dating also carried out a national survey of Nurses, Doctors, Armed Forces, Police Officers and Fire Fighters to find out their favourite food to eat on duty. Michael then created a dish for each of the top three favourites.
My brief was to create my own dish for one of the top three favourites. I was also instructed to use Michael's recipe as inspiration.
My choice was easy – I selected the nurses top dish. I have been so grateful to my specialist nurse, who has visited me at home when I have been too ill to struggle to his clinic. Now that I am almost well again I wanted to give something back to the profession which has given me so much help in the past couple of years.
I am aware how often my specialist nurse is out of the office, so wanted to create a portable dish for his packed lunch box. Also, speaking to a friend who works in a hospital I discovered that nurses there, although allocated lunch breaks, are often too busy to take them. The other problem is that during shift work and unusual hours, the canteen is often closed, so many nurses have to bring their own food from home.
I wanted to create something that nurses could eat quickly with no need for cutlery, so it could be consumed even on those days when breaks don't occur. I also wanted something that could be eaten immediately, or stored for later, and that was portable for those nurses who spend their days travelling to different patients.
I adapted Michael's recipe for Baked Salmon Salad to make these delicious and healthy Vietnamese-style Summer Rolls.
They may look completely different to Michael's salad but there are actually a lot of ingredients that remain identical and I have just swapped a few things. I made sure my swaps were always within the same food groups (e.g. herbs for herbs, carbs for carbs, etc).  Where Michael made a honey and soy vinaigrette, I swapped this for a honey and soy Vietnamese-style dipping sauce.  Here are the other swaps I made…
Where Michael used raw salmon, I swapped this for a mix of smoked salmon and king prawns…
Where Michael used radishes, I swapped these for carrots and bean sprouts. I kept his spring onions, watercress and baby spinach
Where Michael used tarragon, lemon and pine nuts; I swapped these for coriander, lime and peanuts. The peanuts are more in keeping with my Vietnamese theme and are a lot cheaper than pine nuts, which is important on a nurse's budget. I kept his peppermint.
Where Michael used potatoes, I swapped these for rice paper wraps and vermicelli noodles in this handy Spring Rolls kit.
Vietnamese Summer Rolls – recipe
Makes 14 rolls
– 2 * Vietnamese Spring Rolls Kit (rice paper wraps, vermicelli noodles, dipping sauce)
– 120g smoked salmon, shredded
– 175g cooked king prawns, sliced in half
– 40g baby spinach
– Handful of coriander, chopped
– Sprig of peppermint, chopped
– Zest of 1 lime
– 6 spring onions, sliced
– bunch of watercress
– 1 carrot, grated
– handful of bean sprouts
– 20g peanuts, roughly chopped
– Chinese leaves/ lettuce (whole leaves)
Honey and Soy Dipping Sauce
– 2 tbsp clear honey
– 1 tbsp soy sauce
– juice ½ lime
– dipping sauce from 1 kit
Method
1) Cook the noodles according to the pack instructions and prep all the other ingredients, so ready to roll.
2) Soak a sheet of rice paper for 10 seconds in warm water, fill with desired mix of ingredients and roll up (photo step-by-step tutorial shown below). The summer rolls will keep in the fridge for a couple of days if wrapped in damp tea-towel or muslin and separated with lettuce leaves.
3) The dipping sauce from the kit can be used as it is, although I think it is rather too harsh on the fish oil. Alternatively mix it with the other ingredients listed to give a more rounded Honey and Soy Dipping Sauce.
4) Serve the summer rolls on whole leaves with the dipping sauce on the side.
Enjoy!
Step-by-step photo tutorial for making and rolling your Vietnamese-style summer rolls
Soak the rice paper in warm water for 10 seconds (I did this in a frying pan as it was a nice size and shape) and place the paper on damp muslin (or damp tea towel) on a plate. [Top tip – it is difficult to find muslin in kitchen shops these days but you will often find it in baby shops/supermarket!]
Place three half prawns on the paper just below the centre. This layer will be the one that shows on the outside of the wrap so take care with this one. It won't matter if the other layers are messy or in a different order.
Add a couple of spinach leaves, bright side down.
Add some strips of smoked salmon.
Add as much coriander and peppermint as you would like.
Sprinkle over as much lime zest as you would like.
Sprinkle over spring onions.
Add some watercress.
Add some bean sprouts. Make sure they are aligned sideways, otherwise they can tear the rice paper when rolling.
Add some carrot.
Sprinkle over some peanuts.
Add some vermicelli noodles.
Add another couple of spinach leaves and press down to squeeze all the ingredients together.
Fold over sides of the rice paper and the flap closest to you.
Roll the rice paper wrap away from you, using your fingers, to guide the paper and hold in the filling. Continue rolling until the rice paper encloses the whole roll.
Serve your Vietnamese Summer Rolls on whole Chinese leaves with the Honey and Soy dipping sauce…
Storing…
If you want to store the rolls to eat later, place them in a tupperware lined with damp muslin…
Cover each layer with Chinese leaves or lettuce to stop the rolls sticking to each other.
Finish your box with a another layer of leaves
And cover with damp muslin.  They will be fine stored for a 2-3 days in the fridge, as long as the prawns and salmon are still within their best before dates.
Packed lunch/dinner…
If you are taking your rolls for packed lunch/dinner,  then the little gift jars for jams and marmalade are ideal for transporting your dipping sauce…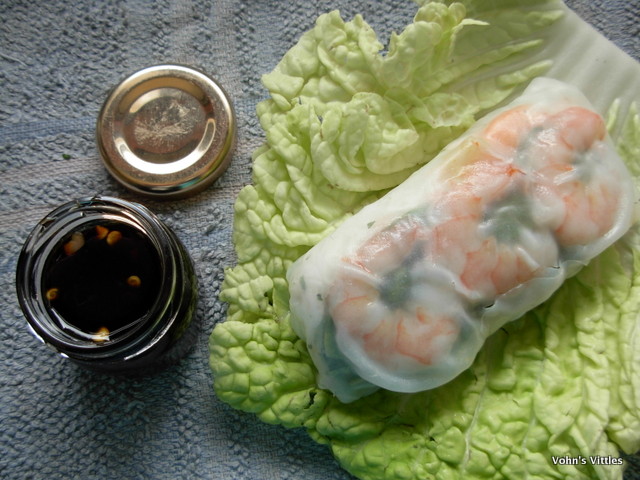 Enjoy!
Vohn
x
Disclosure: I was provided with a shopping centre gift card to cover the cost of my ingredients.
.
P.S. I am entering my Vietnamese-style Summer Rolls into a couple of blogger challenges…
First up is Cooking with Herbs run by Karen over at Lavender and Lovage and this month guest-hosted by Linzi at Lancashire Food.
Next is Family Foodies run by Louisa of Eat Your Veg and Vanesther of Bangers & Mash. Louisa is hosting this month and her theme is Barbecues, Picnics and Outdoor Eating.