Hello Dear Reader,
I'm sure it hasn't escaped your attention that a certain footballing event starts today in Brazil.  Yes, yes I know some you will be calling it soccer but here it is the Football World Cup.  Mr Vohn will be glued to the TV for the next month and so I am going to have lots of extra time for cooking lovely treats and bringing you recipes!
I have also found this fantastic Foodie World Cup bloggers challenge being run by Chris over at Cooking Around The World.
Chris has challenged us to cook dishes relating to the countries playing in the World Cup. We can cook Brazilian dishes to enter any day of the world cup but there are extra points for cuisine from other countries but only on the days they are playing a match. Got it? Good! Cause the rules are actually a whole lot more complicated than that, as we are allowed to enter old posts too but don't get so many points for them! Anyhoo I am going to try to enter a dish a day during the World Cup month!
So, today Brazil is playing Croatia and I am bringing you a traditional Brazilian dessert called Quindão. In straightforward terms this is a baked custard coconut flan. As it cooks, two layers form – a rich and sticky coconut base topped with a light set custard!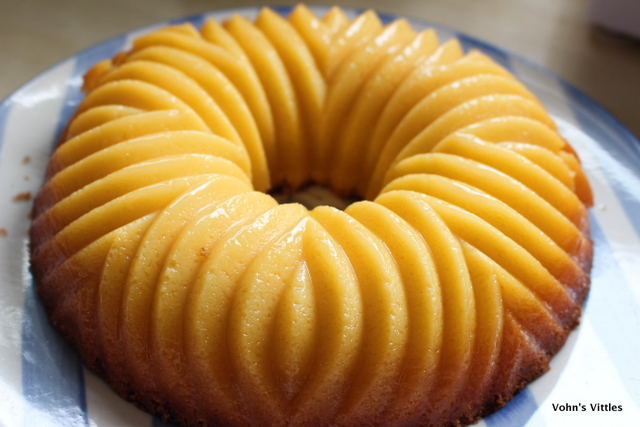 This is a very easy recipe and I made it at the weekend with my seven year old grandson. It requires 18 egg yolks, so it was a fantastic recipe for him to practice separating eggs. Only a few got broken – we had omelettes for lunch. I popped the remaining egg whites in the freezer, and will make some pavlovas from them throughout the summer.
Quindão (Brazilian Baked Custard Coconut Flan) – recipe
– 160g (6 oz) shredded coconut (fresh or desiccated)
– 285 ml (10 fl oz) milk (only required if using desiccated coconut)
– 50g (2 oz) butter
– 425g (15 oz) caster sugar
– 18 egg yolks
– ½ tsp Vanilla extract
1) If using desiccated coconut, put it in a large bowl, stir in the milk & leave to soften for 15 minutes. Otherwise just place the fresh shredded coconut in a large bowl.
2) Melt the butter and use a pastry brush to grease a ring mould or Bundt tin. Sprinkle over a light dusting of caster sugar, tipping any excess into the coconut.
3) Add the remaining sugar & melted butter to the coconut and stir well. Next gently stir in the eggs yolks one by one. Cover with a clean tea towel and leave for one hour.
4) Stir the mixture again and then pour it into the mould.
Place the mould onto a baking tray and put into a cold oven. Pour warm water into the baking tray to come about halfway up the outside of the mould. Turn the oven on to 200°C (390ºF) and cook for 70 minutes, turning the tray every 20 minutes so the top browns evenly.
5) Once the top is golden and the custard set, remove from oven and allow to cool in the mould. Once cold, loosen the edges and turn out onto a serving plate.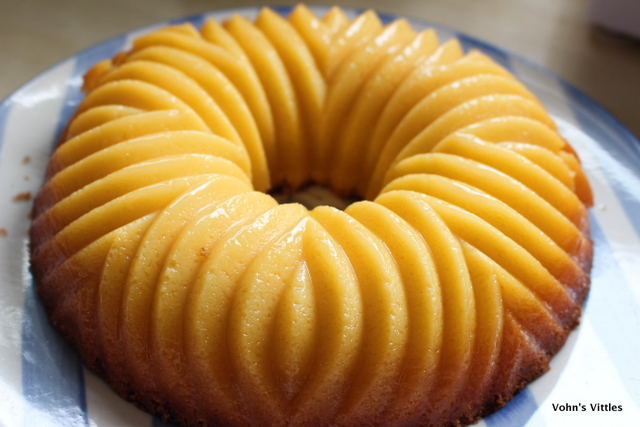 Cut in slices to serve.
This recipe was adapted from The Caribbean, Central and South American cookbook
by Jenni Fleetwood and Marina Filippelli.
Vohn
x
P.S. I am entering this into the BakeFest bloggers challenge run by Vardhini over at Cooks Joy. Thank goodness she accepts eggs in her veggie cooking as this has more eggs than any recipe I've ever baked before!
.